John Adamson (1576–1651?)
Jump to navigation
Jump to search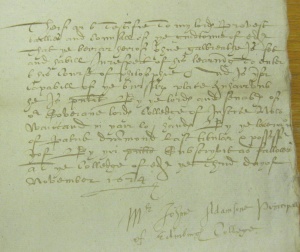 John Adamson (1576–1651?) was Principal of the University of Edinburgh from 1623 until 1651.
Early Career
Adamson was the son of James Adamson, provost of Perth. He studied at Edinburgh University under Charles Ferme, graduating MA on 30 July 1597. Following the resignation of George Robertson in January 1598, he won a public disputation to be appointed Regent of Philosophy. As a regent, Adamson took two classes through to graduation in 1600 and 1604. He resigned in 1604 to become Minister of Haddington, moving in 1609 to the Presbytery of Liberton near Edinburgh. By 1616 he was a member of the Aberdeen Assembly, where he, with two others, was tasked to develop a form of liturgy and a catechism for the Church.
In 1617 Adamson was leader of the College Regents that disputed before King James VI and I at Stirling Castle. Henry Charteris (c1565–1628), then Principal of the University, was of too retiring a disposition to preside over the disputation himself, and asked Adamson to stand in for him. In thanking the speakers, the King made a number of puns on their names. Of Adamson, he said: 'Adam was father of all; and very fitly Adamson had the first part of this act'. A year later, Adamson collected all the Latin and Greek greetings to the King on his arrival in Scotland, and published them as The Muses Welcome to the High and Mighty Prince James (1618).
Principal of Edinburgh University
John Adamson was appointed as Principal of Edinburgh University on 21 November 1623, following the enforced resignation of Robert Boyd. Boyd's appointment in 1622 had proved unacceptable to James VI and I. He had angered the King refusing to subscribe to the Five Articles of Perth, through which the King sought to impose an Episcopalian model on the Scottish Kirk. The King twice wrote to the Town Council demanding Boyd's dismissal, and Boyd had accordingly stepped down. There seemed little chance of incurring royal displeasure by appointing Adamson in his place. Besides publishing The Muses Welcome, Adamson was a consummate courtier, adept at retaining the king's favour.
Although Andrew Dalzel describes Adamson as a 'great ornament to the College', historians have generally felt that his long Principalship left relatively little mark on the University. Perhaps his greatest legacy is the Latin catalogue for the books donated to the University Library in 1626 by William Drummond of Hawthornden: Auctarium Bibliothecae Edinburgenae, sive, Catalogus Librorum quos Gulielmus Drummond ab Hawthornden Bibliothecae D.D.Q., Anno 1627. This was prefaced by a Latin translation (by Adamson) of Drummond's paper 'Of Libraries' which celebrates great libraries and their founders.
In 1633 Adamson orchestrated the pageant and speeches which celebrated Charles I's entry into Edinburgh for his Scottish Coronation. Again, he edited these for publication as Eisodia musarum Edinensium in Caroli Regis, Musarum Tutani, ingressu in Scotiam. In 1637 he published a Latin catechism for students, Eloquiorum Dei, sive, Methodus religionis Christianae catechetica. In the 1640s Adamson regularly represented Edinburgh University at General Assemblies of the Church of Sccotland, at meetings of the commissions appointed by General Assemblies, and at meetings of the commissioners from the universities. His date of death is unknown; he was alive in May 1651, but probably died later in the year. However, his successor as Principal was not chosen until January 1653. Famously, he bequeathed George Buchanan''s skull to the University.
Gallery
Archives at Edinburgh University
Sources
A Catalogue of the Graduates in the Faculties of Arts, Divinity, and Law, of the University of Edinburgh since its Foundation (Edinburgh: Printed by Neill and Company, 1858)
Thomas Craufurd, History of the University of Edinburgh, from 1580 to 1646: To Which is Prefixed the Charter Granted to the College by James VI of Scotland, in 1582 (Edinburgh: Printed by A. Neill & Co., 1808)
Andrew Dalzel, History of the University of Edinburgh from its Foundation, 2 vols (Edinburgh: Edmonston and Douglas, 1862)
Sir Alexander Grant, The Story of the University of Edinburgh during its First Three Hundred Years, 2 vols (London: Longmans, Green, and Co., 1884)
Stuart Handley, 'Adamson, John (1576-1651?)', Oxford Dictionary of National Biography (Oxford: Oxford University Press, 2004)[[1], accessed 16 July 2010]