Henry Charteris (c1565–1628)
Jump to navigation
Jump to search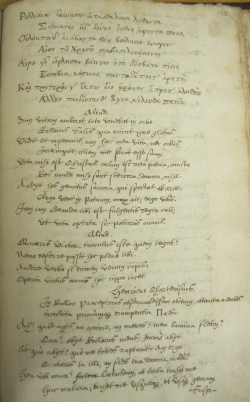 Henry Charteris (c.1565–1628) was the second Principal of Edinburgh University, serving from 1599 to 1620.
Beginnings
The son of an eminent Edinburgh printer, Charteris was one of Robert Rollock's original class of students upon the opening of Edinburgh University in 1583. He laureated in 1587, and is the twelfth signatory for his class in Edinburgh University's Laureation Album. He returned to the university as a Regent in 1589. Charteris was appointed Principal and Professor of Theology on the deathbed recommendation of Robert Rollock.
Principal and Professor of Theology
The University's historians Thomas Craufurd and Sir Alexander Grant argue that Charteris was too modest and retiring for the Town Council's taste, and suggest that a plot was hatched to replaced him with Patrick Sands (c1567-1635). A pretext was found when Charteris requested that his salary be raised to the same level as the City's Ministers, as had, in fact, been promised him. The Town Council replied that the present state of University funds did not permit it, and insinuated that he might be wise to accept a call to the ministry elsewhere. Charteris took the hint, resigned the Principalship in 1620, and became Minister of North Leith.
The resignation of Charteris led to the separation of the offices of Principal and Professor of Theology, which in both Rollock and Charteris had been united in one person. Sands was a layman, so his appointment as Principal necessitated the creation of a new Professorship of Divinity, to which Andrew Ramsay was appointed. When Ramsay resigned in 1626, Charteris was invited to return as Professor of Divinity, a post he held until his death in 1629.
Relations and Legacy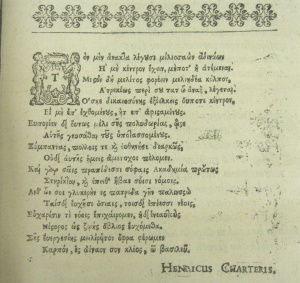 Charteris married three times and had twenty-three children, including Laurence Charteris, Professor of Divinity at Edinburgh University from 1675 to 1682. Charteris co-edited the following posthumous editions of the works of Robert Rollock: Commentarius D. Roberti Rolloci, Ministri Ecclesiae, & Rectoris Academiae Edinburgensis, in Epistolam Pauli ad Colossenses (1600), Lectures upon the First and Second Epistles of Paul to the Thessalonians (1606), Certaine Sermons, upon Severall texts of Scripture (1616), Lectures, upon the History of the Passion, Resurrection, and Ascension of our Lord Jesus Christ (1616), and Five and Twentie Lectures, upon the Last Sermon and Conference of our Lord Jesus Christ (1619). He also revised Bartholomew Robertson's life of Rollock, printed by the Wodrow Society in 1826 as De vita et morte Roberti Rollok. Edinburgh University Library's collections also includes Latin and Greek verses by Charteris to Rollock's memory in a manuscript of Rollock's Commentarius in primam beati Apostoli Petri Epistolam (ca. 1627) (completed by Charteris) and Greek verses by Charteris in honour of James VI and I in The Muses Welcome to the High and Mightie Prince James (1618).
Contemporary Judgements
When he visited Scotland in 1617, James VI and I summoned the professors of Edinburgh University to Stirling to hold a disputation before him. Charteris's great personal modesty led him to decline to take part. At the end of the disputation, the King made a number of learned puns on the names of the professors. According to Craufurd, he said of Charteris: 'His name agreeth very well unto his nature, for charters contain much matter yet say nothing, but put great purposes in men's mouths'. Craufurd himself remarked that Charteris was 'certainly one of the most learned men of his time, both in tongues, and in philosophy and divinity, but he had too low thoughts of himself'.
Archives at Edinburgh University
Sources
Thomas Craufurd, History of the University of Edinburgh, from 1580 to 1646: To Which is Prefixed the Charter Granted to the College by James VI of Scotland, in 1582 (Edinburgh: Printed by A. Neill & Co., 1808)
Sir Alexander Grant, The Story of the University of Edinburgh during its First Three Hundred Years, 2 vols (London: Longmans, Green, and Co., 1884)
Stuart Handley, 'Charteris, Henry (c.1565–1628)', Oxford Dictionary of National Biography (Oxford: Oxford University Press, 2004) [[1], accessed 23 May 2014]