William Drummond of Hawthornden's Donation of Books to Edinburgh University Library, 1626
Jump to navigation
Jump to search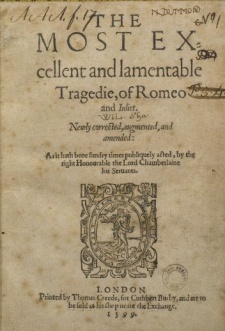 William Drummond of Hawthornden made the first major private donation of books to Edinburgh University Library in 1626, gifting the library its first literary collection.
Edinburgh University Library
The foundation of Edinburgh University Library was enabled by the Bequest of Clement Litill's Library in 1580. Initially gifted to the 'kirk of Edinburgh', the library was transferred to the newly opened University at on 17 September 1584. It soon became the custom for graduates to make a parting gift to the library, either in the form of money or books. As it was a public library, belonging to the Town of Edinburgh, it also attracted donations from prominent citizens. Early benefactors include William Rig of Mortoun, James Heriot, Thomas Fisher, Archibald Douglas of Whittinghem, Thomas Hope of Craighall, Lord Advocate, David Williamson, James Raeth of Edmonston, and Dr. Robert Johnston. None of these donations could compare, however, to the gift made by poet and Edinburgh alumnus William Drummond of Hawthorden.
Drummond's Donation
Drummond had studied under James Knox (d. 1633) at Edinburgh University, graduating MA in 1605. He began collecting books when he went to France to study Law in 1606, returning to Scotland in 1608 with nearly 400 volumes of French, Italian, Spanish, and English literature, the foundation of a fine private library. He continued to collect voraciously upon inheriting the title of Laird of Hawthornden in 1610 and retiring to the family seat of Hawthornden Castle, near Roslin, Midlothian. By 1626, when he was made a burgess of Edinburgh, he had amassed a superb private library. He had already made a small but valuable donation to the library in 1624: the Earl of Stirling's autograph manuscript of Doomesday and copies of Drummond's own Poems (1616) and Flowres of Sion (1623). The latter are personally inscribed by Drummond to the 'College of King James' (as Edinburgh University was known following an Act of the Scottish Parliament, 4 August 1621).
In 1626, Drummond made a much more substantial gift, donating around 550 books to the University Library. His motives remain unclear. Besides wishing to be remembered as a benefactor to his Alma Mater, he may also have been bidding a temporary farewell to literary pursuits. He was preparing to go abroad for some time on business connected with registering patents for military machines of his own invention. Drummond made further donations on an annual basis between 1628 and 1636. All in all, he presented some 800 printed titles and thirty-six manuscripts. Around 700 volumes survive in the Library's collection.
Treasures of the Collection
Drummond's donation provided the University Library with some of its greatest treasures, especially in the fields of literature, history, geography, philosophy and theology, science, medicine and law. They include early printings of Shakespeare, Jonson, Spenser, Drayton and Sir Philip Sidney, a complete copy of John Derrick's Image of Irelande (1581), and two early pamphlets encouraging the colonisation of Nova Scotia. There are volumes in Latin, Italian, French and Spanish, as well as English. The collection contains rare items as varied as Simon Sturtevant's Metallica (London, 1612), the quintus part of Nicholas Yonge's second collection of Musica transalpina (London, 1597), Edward Wright's The Description and Use of the Sphaere (London, 1613), Conrad Gesner's De rerum fossilium (Zurich, 1565) and Historia plantarum (Paris, 1541), Hieronymus Fabricius's De locutione (Venice, 1601), Henry Briggs's Arithmetica logarithmica (Gouda, 1628), Gratian's Decretals (Antwerp, 1573) and Hernan Cortés's De insulis nuper inventis (Cologne, 1532).
The books are listed in the University Library's pre-1985 guard-book catalogue, and there are online records for most of them. A printed catalogue of the collection is available in the Centre for Research Collections, where the collection itself may be consulted. All have shelfmarks starting 'De.'
Gallery
Catalogue
On the 26th November 1626, John Adamson (1576–1651?), then Principal of Edinburgh University, appeared before the Town Council and produced an inventory of Drummond's donation. For over fifty years following the opening of the University in 1583, the Principal acted as ex officio Keeper of the University Library. The Council ordered that the books be added to the Library and the inventory be printed at their expense. Adamson, a considerable scholar, printed a Latin catalogue of the donation, entitled Auctarium Bibliothecae Edinburgenae, sive, Catalogus Librorum quos Gulielmus Drummond ab Hawthornden Bibliothecae D.D.Q., Anno 1627. This was prefaced by a Latin translation of Drummond's paper 'Of Libraries' which celebrates great libraries and their founders. Shortly afterwards a tract appeared, generally attributed to Drummond himself, entitled Bibliotheca Edinburgena Lector, in which Edinburgh University Library itself addressed the public, inviting it to increase its stocks.
Library Accommodation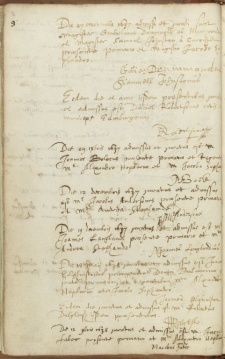 The building in which Drummond's donation was originally stored was relatively knew. In 1616 the Town Council built a hall for academical purposes, 120 feet long by 30 feet wide, and allocated the identically sized room immediately above it as new accommodation for the University Library. This room, however, appears to have been deeply unsuitable. According to the University's earliest historian Thomas Craufurd, 'the cast windows of that house, exposed to the east and west moistening winds, procured some moustyness to the books'. Coal had to bought in quantity 'to give dry air for preservation of the volumes'. A new Library building was begun in 1644 through the tireless efforts of Alexander Henderson (c1583–1646), then Rector of the University.
External Links
Sources
Thomas Craufurd, History of the University of Edinburgh, from 1580 to 1646: To Which is Prefixed the Charter Granted to the College by James VI of Scotland, in 1582 (Edinburgh: Printed by A. Neill & Co., 1808)
C. P. Finlayson and S. M. Simpson, 'The History of the Library 1580-1710', in Edinburgh University Library 1580-1980: A Collection of Historical Essays, ed. Jean R. Guild and Alexander Law (Edinburgh: Edinburgh University Library, 1982), pp. 43-54.
Sir Alexander Grant, The Story of the University of Edinburgh during its First Three Hundred Years, 2 vols (London: Longmans, Green, and Co., 1884)
The Library of Drummond of Hawthornden, ed. Robert Macdonald (Edinburgh: Edinburgh University Press, 1971)
John Scally and Julie Lawson, 'A labyrinth of delight': The World of William Drummond of Hawthornden 1585-1649 (Edinburgh: Edinburgh University Library, Museums & Galleries in partnership with the Scottish National Portrait Gallery, 2005)
M. C. T. Simpson, 'The Special Collections', in Edinburgh University Library, 1580–1980: A Collection of Historical Essays, ed. J. R. Guild and A. Law (Edinburgh: Edinburgh University Library, 1982), pp. 140-62.