Robert Boyd (1578-1627)
Jump to navigation
Jump to search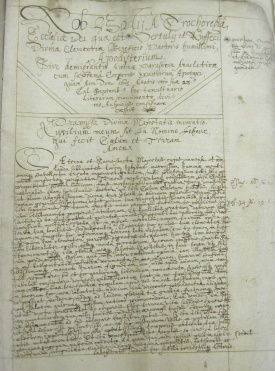 Robert Boyd of Trochrig (1578-1627) was appointed Principal of Edinburgh University in October 1622.
Biography
Born in Glasgow, Robert Boyd was the eldest son of James Boyd of Trochrig, Archbishop of Glasgow and Margaret Chalmers, daughter of James Chalmers, Baron of Gaithgirth. When his father died in 1581, his mother moved to Trochrig, near Ayr. Educated first at Ayr Grammar School, Boyd graduated MA under at Edinburgh University in 1595. His Regent was Patrick Sands (c1567-1635), whom he would eventually succeed as Principal of the University. After graduating, he went on to study Divinity under Robert Rollock (1555-1599), the first Principal of Edinburgh University and Professor of Theology. He continued his studies in France and taught for five years at the Protestant University in Montauban. He moved to Verteuil in 1604, where he was ordained as a pastor of the Reformed Church. In 1605, his congregation agreed to release him so that he could take up the post of Professor of Philosophy at the University of Saumur. In 1608, he was appointed to the Chair of Divinity at Saumur. In 1614, however, James VI ordered him to return to Scotland to assume the post of Principal of the University of Glasgow. In this position, Boyd became involved in the controversy as to whether the Church of Scotland should, as King James believed, have bishops. James was angered when Boyd assumed a Presbyterian stance and opposed the Five Articles of Perth (1618) through which the King sought to impose an Episcopalian model on the Kirk. In 1621, Boyd resigned the Principalship of Glasgow, retiring to Trochrig. In October 1622, however, following the resignation of Patrick Sands, the Town Council of Edinburgh invited Boyd to become Principal of Edinburgh University.
Boyd as Principal
Boyd accepted, becoming, at the same time, Minister of Greyfriars Kirk. His appointment, however, was unacceptable to King James. As soon as the King heard, he wrote to the Town Council (December 1622), commanding them to dismiss Boyd unless he conformed to the Five Articles of Perth. The Town Council wrote in Boyd's defence, citing his 'gifts and peaceable disposition', but the King replied on 31 January 1623, stating, 'we think his byding ther will do much evil and therefor [...] we command you to put him not only from his office but out of your town [...] unless he conform totally'. Boyd refused to comply, and tendered his resignation. He was succeeded in the Principalship by John Adamson (1576–1651?) in November 1623. Boyd went on to become Minister of Paisley in 1625 but died of throat cancer in 1627.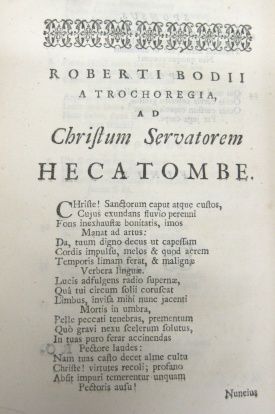 The Scholar and Poet
Boyd was widely respected as a scholar and teacher. His posthumously published commentary on the Epistle to the Ephesians, Robert Bidii in epistolam Pauli Apostoli ad Ephesios (1652), is an immense work of learning. He impressed his students at Glasgow (where, besides the Principalship, he taught Divinity, Hebrew, and Syriac) with his extempore lectures in fluent Latin and vast knowledge of theology. He was also an accomplished neo-Latin poet, acclaimed for his Hecatombe Christiana (1627), which was translated into English verse by Sir William Mure (1628) and Patrick Hamilton (1629).
Archives at Edinburgh University
Sources
Thomas Craufurd, History of the University of Edinburgh, from 1580 to 1646: To Which is Prefixed the Charter Granted to the College by James VI of Scotland, in 1582 (Edinburgh: Printed by A. Neill & Co., 1808)
Sir Alexander Grant, The Story of the University of Edinburgh during its First Three Hundred Years, 2 vols (London: Longmans, Green, and Co., 1884)
Rosalind K. Marshall, 'Boyd, Robert, of Trochrig (1578-1627)', Oxford Dictionary of National Biography (Oxford: Oxford University Press, Sept 2004) [[1], accessed 27 May 2014]
Jamie Reid-Baxter, 'Mr Andrew Boyd (1565-1636): A Neo-Stoic Bishop of Argyll and his Writings', in Sixteenth Century Scotland: Essays in honour of Michael Lynch, ed. J. Goodare and A. A. MacDonald (Leiden: Brill, 2008), pp. 395-425 (pp. 396-97)
Robert Wodrow, Collections upon the Lives of the Reformers and Most Eminent Ministers of the Church of Scotland (Glasgow: Glasgow University Press, 1834-1848)