Patrick Sands (c1567-1635)
Jump to navigation
Jump to search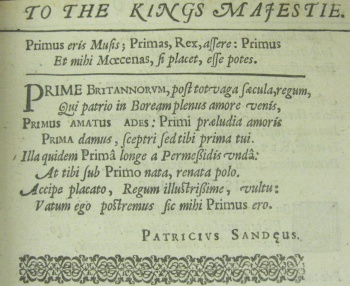 Patrick Sands (ca. 1567-1635) was the third Principal of Edinburgh University, serving from 1620 to 1622.
Biography
Patrick Sands was one of Robert Rollock's original class of students upon the opening of Edinburgh University in 1583. He laureated in August 1587, and is the thirty-fifth signatory for his class in Edinburgh University's Laureation Album. He returned to the university as a Regent in 1589, and tutored two classes through to laureation in 1591 and 1595. One of the students in his second class was Robert Boyd, who would eventually succeed him as Principal of Edinburgh University. In October 1597, he left the University to travel abroad, as both a student of Law and tutor to Lord Newbattle. On returning to Edinburgh, he was called to the Scottish Bar as an Advocate, a profession he appears to have practiced with only moderate success.
Sands as Principal
According to the University's historians Thomas Craufurd and Sir Alexander Grant, the Town Council of Edinburgh grew increasingly unsatisfied with the performance of Henry Charteris (c1565–1628), who had succeeded Rollock as Principal of Edinburgh University in 1600. One of the most prominent councillors was David Aikinhead, Sands's brother-in-law and a future Lord Provost of Edinburgh. Under Aikinhead's aegis, a plan was hatched to replace Charteris with Sands. A pretext was found to edge Charteris out in 1620, when a request for a salary increase was rejected and Charteris was persuaded to resign the Principalship and accepted a call to become Minister of North Leith. Sands was elected in his place on 20 March 1620.
Although the election of Sands has often been seen as an act of nepotism, his relations with the university may have been closer than its historians suggest, and his scholarly credentials more persuasive. On a visit to Scotland in 1617, James VI and I summoned the professors of Edinburgh University to Stirling to hold a disputation before him. Although he had no formal connection with the university at this point, Sands formed part of the group who debated in front of the King.
Separation of Roles of Principal and Professor of Divinity
Rollock and Charteris had combined the roles of Principal and Professor of Theology. Sands, however, was a layman, so his appointment led to the permanent separation of these roles, and the creation of a new Professorship of Divinity, to which Andrew Ramsay was appointed. Sands was nonetheless required ex officio to preach in Greyfriars Kirk in the afternoons. Sir Alexander Grant suggests that his inability to satisfy in this capacity may been the principal reason for his resignation of the Principalship in October 1622.
Publications
Sands left no scholarly works but contributed two Latin poems to The Muses' Welcome (Edinburgh, 1618), a collection of verses marking the visit of James VI and I to Scotland in 1617.
Archives at Edinburgh University
Signatures, August 1587 (as student), 12 August 1591, 10 August 1595 (as regent), First Laureation & Degrees Album, Edinburgh University Archives (EUA IN1/ADS/STA/1/1)
Sources
Thomas Craufurd, History of the University of Edinburgh, from 1580 to 1646: To Which is Prefixed the Charter Granted to the College by James VI of Scotland, in 1582 (Edinburgh: Printed by A. Neill & Co., 1808)
Sir Alexander Grant, The Story of the University of Edinburgh during its First Three Hundred Years, 2 vols (London: Longmans, Green, and Co., 1884)