Alexander Darroch (1862-1924)
Jump to navigation
Jump to search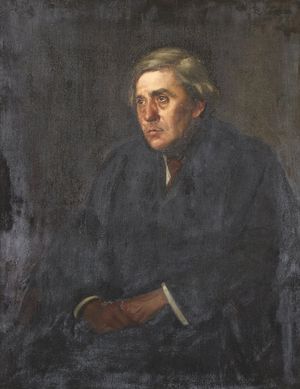 Alexander Darroch (1862-1924) held the Bell Chair of Education from 1903 to 1924.
Early Life
Darroch was born in Greenock where he was educated at a local Board School. At the age of fifteen, he was appointed as a pupil teacher in Greenock, and subsequently attended the Church of Scotland Training College at Glasgow. Qualifying in 1884, he taught for ten years at a school in Ecclefechan, Dumfriesshire. At over thirty years of age, he entered Edinburgh University to study Philosophy, graduating with First Class Honours in 1898. As an undergraduate, he gained the Rhind Philosophical Scholarship and acted as a tutor in the Classes of Moral Philosophy and Logics. After a year lecturing in Education at University College, Bangor, he returned to Edinburgh as a Lecturer in Education and Psychology at the Church of Scotland Training College. At the same time, he worked as private assistant to Simon Somerville Laurie (1829-1909), first holder of Edinburgh University's Bell Chair of Education. He was subsequently invited by the Senatus Academicus of Edinburgh University to give a course of lectures in which he criticized the influential educational theories of Johann Friedrich Herbart (1776-1841), arguing that they were grounded in too empirical a view of psychology. These were published as Herbart and the Herbartian Theory of Education in 1903, and in the same year Darroch succeeded Laurie in the Bell Chair of Education.
Bell Chair of Education
Darroch played a vital role in the major reorganization of teacher training in Scotland that took place in 1905. Hitherto, teacher training had been controlled and financed by the Church of Scotland and the Free Church of Scotland, though their Edinburgh colleges had maintained close relations with the University (particularly encouraged by Darroch's predecessor Laurie). In 1905, the Scottish Education Department took training out of the churches' hands, establishing four Provincial Committees for the Training of Teachers connected to Scotland's four Universities (Aberdeen, Edinburgh, Glasgow, St Andrews). Darroch represented Edinburgh University on the Edinburgh Provincial Committee from its inception and became its Chairman in 1909. He was thus instrumental in introducing a new system of teacher-training at the Edinburgh Provincial Training Centre which opened at Moray House in 1907. Close links were immediately established between the University and Moray House. The Schoolmaster's Diploma established under Laurie was dropped in favour of a year's course of training at Moray House for University graduates. Arrangements were also made enabling students to take their training and University course concurrently, with certain university classes being recognized as an integral part of their training programme. Later, Darroch was pivotal in establishing an Honours Degree of Bachelor of Education at Edinburgh University in 1915-16, much of the teaching for which was conducted at Moray House.
The Experimental Educationalist
Darroch published a number of works which made an important contribution to modern educational thought, including The Children (1907), The Place of Psychology in the Training of Teachers (1911), A History of Educational Thought (1912), and Education and the New Utilitarianism (1914). He believed that modern educationalists placed too much stress on examinations and on the acquisition of knowledge for its own sake. He argued instead for the careful observation of a child's nature and the employment of experimental methods to assess pupils' native talents and help them to realize themselves and to perform the service to society for which they were best adapted. He encouraged students to study recent advances in Experimental Education and set up the United Kingdom's first Laboratory for Experimental Pedagogy (directed by his assistant James Drever (1873-1950), who would later become the University's first Professor of Psychology).
Wider Public Responsibilities
Darroch also took an active role in the public administration of education. After the passing of the 1918 Education (Scotland) Act, Darroch became a member of the first Edinburgh Education Authority, and from 1920 was Chairman of the body. When a National Committee for the Training of Teachers was created in 1920, Darroch was again elected the first Chairman. Besides serving on a number of school boards, Darroch also pioneered the foundation of five new hostels for women students in the city's Edinburgh district. These were to cater for the huge increase in female students from the First World War onwards (accounting for 31% of the student population by 1924). One of the hostels was to be named in his honour.
Many believed that the sheer weight and diversity of Darroch's public responsibilities contributed to his early death in 1924. Following his death, a decision was made to bring teacher training more firmly under university control by combining the role of Director of Studies at the Edinburgh Provincial Training Centre with the Bell Chair of Education. Godfrey Thomson (1881-1955) was jointly appointed to both posts in 1925, and the University's Education Department was transferred to Moray House.
Sources
James Drever, 'The New Developments in the Education Department', University of Edinburgh Journal, 1 (1925), 4-8.
Alexander Morgan, Makers of Scottish Education (London: Longmans, Green, and Co., 1929)