Sir Godfrey Hilton Thomson (1881-1955)
Jump to navigation
Jump to search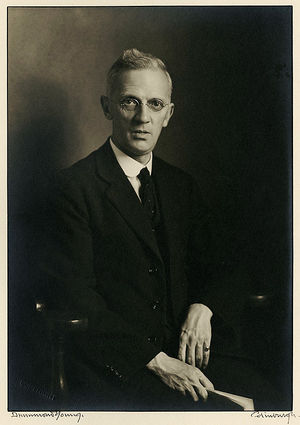 Sir Godfrey Hilton Thomson (1881-1955) held the Bell Chair of Education at Edinburgh University from 1925 to 1951.
Early years
Thomson was born in Carlisle on 27 March 1881. His mother, Jane Thomson née Hilton, separated from his father, Charles Thomson, taking the infant Thomson to Felling, Tyneside, where Thomson attended High Felling Board School. Thomson showed academic promise from an early age, winning a scholarship for Rutherford College, a co-educational secondary school in Newcastle. Here he studied mainly science: chemistry, heat, light and sound, electricity and magnetism, mathematics and Euclid. At the age of sixteen, he passed the London Matriculation examinations, permitting him to return to High Felling Board School as a Pupil Teacher. Aged nineteen he gained distinction, and third place, in the competitive all England Queen's Scholarship Examination. This enabled him to become a full time student at Armstrong College, Newcastle, a constituent college of Durham University. Thomson studied for his teaching diploma and a joint Mathematics and Physics degree simultaneously, graduating with Distinction. He went on to study at Strasbourg (then part of Germany) under the Nobel Prize-winning physicist, Ferdinand Braun, graduating Summa cum Laude following his work on Herzian waves.
After gaining his PhD, Thomson returned to Newcastle as assistant lecturer at Armstrong College in order to fulfil the obligations of his scholarship. It was here that he met his wife, Jennie Hutchinson, a fellow lecturer, whom he married in 1912. Their son, Hector, was born in 1917.
Debate with Spearman
In 1916, Thomson published a paper which would ignite a thirty-year debate with psychologist, Charles Spearman. The debate centred on Spearman's Theory of Two Factors, which attributed intelligence to a single, general factor, 'g' and a large number of specific mental skills. Thomson provided an alternative for this in his bonds model, in which tests of intelligence sampled pools of bonds, with those tests that sampled the more closely-related pools having the higher correlations (Thomson made a link between these bonds and the neurons of the brain). Thomson had no wish to discredit Spearman's theory, rather to provide an alternative, and he held off publication during the war years to enable Spearman, who was serving, time to respond.
First Experiments with Testing
In 1921, the local authorities of Newcastle, who provided bursaries for secondary school education, were concerned by a lack of applicants from rural backgrounds. Thomson was asked to design a test which would make selection a fairer process. Conscious of the fact that rural children were often absent from school, he aimed to create a test which allowed children to demonstrate their 'native wit' or innate intelligence, rather than past learning.
Thomson at Edinburgh University
In 1925, despite pressure from Edward Lee Thorndike to accept a post at Columbia University following a highly successful year there as visiting Professor (1923-1924), Thomson accepted both the Bell Chair of Education at the University of Edinburgh, and the post of Director of Studies at the Edinburgh Provincial Training Centre (later Moray House College of Education). The two positions had never been held by the same candidate, and never were again.
It was here in what became the Godfrey Thomson Unit for Educational Research that Thomson and his team formulated the Moray House Tests, based on Thomson's earlier Northumberland tests. Published by the University of London Press, the tests were used throughout the UK for school selection, particularly in England, and by 1948 had been given to two out of three British children. Thomson believed testing was preferable to nepotism, and worked on making the tests as fair as possible. Profit was put in a research fund to facilitate their continued improvement.
The Scottish Mental Survey
In 1931, the Scottish Council for Research in Education (SCRE) set up the Mental Survey Committee. This was in response to the International Conference on Examinations, which had been attended by representatives from Scotland, Switzerland, England, France, Germany, and the United States of America. The purpose of the conference, which was supported by the Carnegie Foundation and the International Institute of Teachers College, Columbia University, was to explore international concerns regarding the validation of examinations for school assessment and selection. It was decided that each country should undertake a research exercise. The Scottish Mental Survey, a test of the entire nation's intelligence, was Scotland's unique contribution.
Thomson was at the centre of this project – not only was his Moray House Test No. 12 selected for the survey, he was also assistant Chair of the committee. On June 1, 1932, almost every Scottish child born in 1921 was tested. 87,498 Scottish children in total sat the test. By 1947, Thomson was Chairman of the Mental Survey Committee, and the exercise was repeated for school children born in 1936, with the addition of questionnaires which gleaned data regarding the child's social, familial, and economic background. The purpose of this second survey was to measure whether Scotland's intelligence had decreased in response to the perceived differential birth rate. The results were surprising, showing a slight increase in intelligence.
Research and Teaching
Intelligence and its measurement would fascinate Thomson throughout his career, and his talents in that area would see his work lauded by renowned figures such as Carlos Paton Blacker, Cyril Burt, Karl Pearson, and Sir Edmund Whittaker. He published prolifically on intelligence, statistics, and education through journal articles and books. His book, The Factorial Analysis of Human Ability, ran to five editions (1939-1951), and was widely regarded as definitive. Its publication was facilitated by the Carnegie Corporation, which awarded Thomson a £5000 grant on the endorsement of E. L. Thorndike, and Thomas S. Arbuthnot. Thomson employed Walter Ledermann (1911-2009), to whom he had been introduced by Whittaker, as a mathematical assistant on the project. Thomson was also the co-founding editor, alongside Cyril Burt, of the British Journal of Mathematical and Statistical Psychology.
Thomson had a great passion for teaching and imparting knowledge. His beliefs regarding the importance of engaging students and pupils in lectures and classes, now commonplace, were highly innovative in his time. He strove to ensure that each individual would be put on the path suited to both their abilities and interests, which he believed would ultimately produce satisfied individuals, and subsequently good citizens.
Honours and Recognition
Thomson had several honours bestowed upon him during his lifetime, including fellowship of the Royal Society of Edinburgh, 1926; Third Class of the Order of Polonia Restituta conferred by the President of the Polish republic in recognition of his services to Polish interests during the war, 1944; Presidency of the British Psychological Society, 1945-1946; honorary membership of the American Academy of Arts and Sciences, 1947; and a Knighthood for services to Education, 1949.
On his retirement from the University of Edinburgh in 1951, Thomson, who had proved highly popular amongst staff and students, was presented with two portraits of himself by R. H. Westwater, one of which hangs in Moray House to this day. He continued to publish up until his illness and subsequent death on 9 February 1955.
Archives
Notable publications
A Modern Philosophy of Education (1929)
The Factorial Analysis of Human Ability (1939)
An Analysis of Performance Test Scores of a Representative Group of Scottish Children (1940)
Key Dates
1881 - Born Carlisle, England, 27 March
1903 - Graduated Bsc, University of Durham
1903 - Appointed Pemberton Fellow, University of Durham
1906 - Graduated PhD, University of Strasbourg
1906-1920 - Lecturer in Education, University of Durham
1920-1925 - Professor of Education, University of Durham
1925-1952 - Bell Professor of Education, University of Edinburgh
1925-1952 - Director of Studies, Edinburgh Provincial Teaching College
1955 - Death, Edinburgh, 9 February
Sources
Ian J. Deary, 'An Intelligent Scotland: Professor Sir Godfrey Thomson and the Scottish Mental Surveys of 1932 and 1947', Journal of the British Academy, 1 (2013), 95-131 [[1], accessed 30 May 2014]
P. Lovie and A. D. Lovie, 'Thomson, Sir Godfrey Hilton (1881–1955)', Oxford Dictionary of National Biography (Oxford: Oxford University Press, 2004) [[2], accessed 30 May 2014]
Hugh Perfect, 'History of Professional Training at Moray House' [[3], accessed 7 December 2017]
Stephen Sharp, 'Much More at Home with 3999 Pupils than with Four: The Contributions to Psychometrics of Sir Godfrey Thomson', British Journal of Mathematical and Statistical Psychology, 50 (1997), 163-74.
Sir Godfrey Hilton Thomson, Education of an Englishman (Edinburgh: Moray House College of Education, 1969)