Simon Somerville Laurie (1829-1909)
Jump to navigation
Jump to search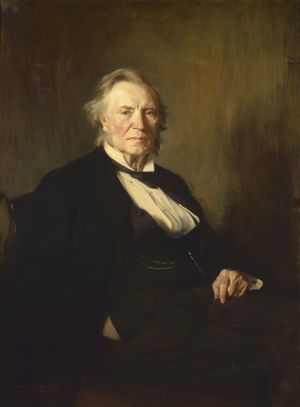 Simon Somerville Laurie (1829-1909) was the first holder of the Bell Chair of Education from 1876 to 1903.
Early Life
Laurie was educated at Edinburgh High School (1839-1844) and Edinburgh University (1844-1849). While studying for his degree, he worked as a class assistant to James Pillans (1778-1864), Professor of Humanity. Pillans was an enthusiastic early advocate of professional training for teaching, and must surely have influenced Laurie's decision to become an educationalist. After five years as a private tutor, Laurie became secretary of the Church of Scotland's education committee in 1855, a post he held for the next fifty years. The Church supervised and co-ordinated school education in Scotland until 1872, when responsibility was passed to the state and the Scotch Education Department was created. The Church's Education Committee nonetheless retained an important role as it remained in control of three major teacher training colleges which only passed into state hands in 1905.
The Educationalist
In 1856 Laurie became a school inspector for the Dick bequest, an endowment which supported rural parish schools in Aberdeen, Banff, and Moray. In this capacity, Laurie examined schoolmasters and used his reports to the governors to set out his general educational principles. At the same time he began a prolific and influential writing career. The Education Act (Scotland) 1872, and the equivalent 1870 Acts for England and Wales, led to a massive expansion of primary teaching. Laurie's writings on the subject, particularly Primary Instruction in Relation to Education (1867), became set-texts for generations of trainee teachers. Laurie was also an advocate of higher education for women and campaigned for reform of the charitable 'hospitals' run by the Merchant Company of Edinburgh, arguing that they should be converted from boarding to day schools. As an educationalist, Laurie stressed the personal influence of the teacher, and favoured the training of the faculties over the accumulation of facts. He was hostile to vocational or utilitarian approaches to teaching and believed that even primary schools should prioritize ethics and the teaching of humanistic values. Towards the end of his career, this brought him into increasing conflict with the Scotch Educational Department.
Bell Professor of Education
By the 1870s, Laurie was widely recognized as Scotland's leading expert on education. He was a thus a natural choice when Edinburgh University's Bell Chair of Education was created in 1876. One of his chief aims in this role was to bring the University and teaching training colleges closer together and, ultimately, to entrust the training of teachers to the University alone. He was convinced that teaching should be regarded as a profession like medicine or law, and that training teachers should enjoy the benefits of a liberal university education. The Scotch Education Department was determined, however, that teacher training should remain in the hands of the specialist church-run colleges. Laurie nonetheless ensured that good students at the existing Church of Scotland Training College and Free Church of Scotland Training College were encouraged to take University classes during their college course and to go on to a degree. It was also due to his influence that a Schoolmaster's Diploma was instituted by the University. This was open to Arts graduates who had attended the University's Education Class, taken a teaching training course at one of the church colleges, and passed an examination in the theory and practice of Education. The Diploma was recognized by the Scotch Education Department as qualifying the holder to teach in Scottish schools.
Laurie resigned from the Bell Chair in 1903, and was succeeded by Alexander Darroch (1862-1924).
The Philosopher
Laurie had a profound interest in philosophy and applied unsuccessfully for the Edinburgh chair of Moral Philosophy in 1868.Laurie also published a number of works on ethics, expounding a philosophy of 'natural realism'. The most important (published under the pseudonym Scotus Novanticus) include Metaphysica nova et vetusta (1884) and Ethica, or, The Ethics of Reason (1885). In these, Laurie drew on the Scottish 'common-sense' tradition to seek a rational basis in experience for theism and for ethical idealism.
Awards and Recognition
Laurie received honorary doctorates from the Universities of Edinburgh, Aberdeen, and St Andrews. He was elected a Fellow of the Royal Society of Edinburgh (1870) and an Honorary Fellow of the Educational Institute of Scotland (1891). His works were widely read in the United States, and he was a corresponding member of the American National Educational Association.
Sources
R. D. Anderson, 'Laurie, Simon Somerville (1829–1909)', Oxford Dictionary of National Biography (Oxford: Oxford University Press, 2004)
James Drever, 'The New Developments in the Education Department', University of Edinburgh Journal, 1 (1925), 4-8.
Alexander Morgan, Makers of Scottish Education (London: Longmans, Green, and Co., 1929)