Psychology
Jump to navigation
Jump to search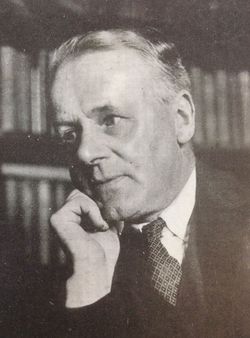 Establishment of the Department
The Department of Psychology was established in the Faculty of Arts in 1908. The attached post, the Combe lectureship in General and Experimental Psychology, and the associated laboratory as the George Combe laboratory, were paid funded by the Trustees of solicitor and phrenologist George Coombe (1788-1858).
The first lecturer and Head of Department was Dr William George Smith (1866-1918). He was succeeded by James Drever (1873-1950), who became Professor of Psychology in 1931 . During this time, the key members of staff included: Dr Mary Collins (1895-1989), co-author with Drever of a number of semi-popular books, and an authority on colour vision; Dr William Ronald Dodds Fairbairn (1889-1964), who held a part-time post and was a well-known psychoanalyst; Dr John Derg Sutherland (1905-1991), who became Director of the Tavistock Clinic; Boris Semeonoff (1910-1998), who remained an active member of the department until he retired. The University Psychological Clinic was established around 1925 and initially based in Drummond Street School before being transferred to the University laboratory.
Post WW2 Development
From 1944-1966, the Department was in the charge of James Drever (1910-1991) (son of the previous professor). It was during this period that an ''Honours School'' in Psychology was first fully established. Key members of staff during this period included Dr Halla Beloff (1930- ), Dr John Beloff (1920-2006), and Professor Margaret Donaldson (1926- ). Professor Donaldson was to oversee the development of research in Developmental Psychology and Psycholinguistics on an extensive scale. In 1963 the Department moved from its original premises in Old College to 60 The Pleasance. The younger Drever left the department in 1966 to become the first Principal of Dundee University, and the first psychologist in the UK to be appointed as a university Vice Chancellor.
New Direction
Under both Drevers, there continued to be a strong philosophical element in the teaching within the department. This was to markedly change with the appointment of a biologist, Professor David Milton Vowles, to the chair in 1968. Under Vowles psychology developed strongly as a scientific discipline. Several animal laboratories were established together with the appointment of internationally known developmental psychologists and a general expansion of staff.
At the end of the Vowles era in 1984, the department acquired the Koestler Chair in Parapsychology, and appointed Robert L. Morris (1942-2004), to the post. John Beloff researched and taught parapsychology at Edinburgh since his appointment in 1992 until his retirement in 1985, though he maintained his connections with parapsychology and the department for another two decades.
The department was incorporated into the School of Philosophy, Psychology and Language Sciences within the College of Humanities and Social Science in 2002.
List of Professors
Chair of Psychology
Koestler Chair in Parapsychology
Sources