Alexander Carlyle (1722-1805)
Jump to navigation
Jump to search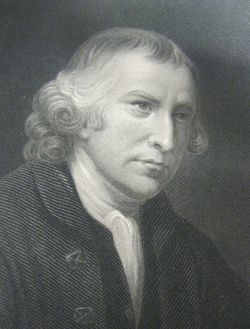 The theologian Alexander Carlyle (1722-1805) graduated from Edinburgh University in 1743 and was a member of the College Company of volunteers formed to defend Edinburgh against the Jacobite Army in 1745. His posthumously published Autobiography is an invaluable record of Edinburgh life during the Enlightenment.
Early Years
Alexander Carlyle was born in Cummertrees, Dumfriesshire, where his father was Kirk minister. Most of his childhood, however, was spent in Prestonpans, Haddingtonshire, where his father was transferred in 1724. Having been educated at the parish school, he entered Edinburgh University at the age of thirteen. His closest friends included William Robertson (1721-1793), Adam Ferguson (1723-1816), and John Home (1722-1808), who would later be prominent allies in the moderate party of the Church of Scotland. Carlyle graduated MA in 1743, and with a bursary from the Duke of Hamilton, studied for a further two years at Glasgow.
Carlyle and the College Company
He was preparing to set out for a further year's study in Leiden, when the Jacobite Rebellion broke out in August 1745. In September, Carlyle joined the College Company of volunteers that formed to defend the City of Edinburgh. After the city capitulated, he made his way to Dunbar and offered his services to Sir John Cope, Commander-in-Chief of the British Army in Scotland. He served as a scout on the eve of the Battle of Prestonpans (21 September 1745) and, after an overwhelming Jacobite victory, helped tend wounded Hanoverian officers. He left a full and somewhat farcical account of the actions the College Company in his Autobiography, as well as irreverent pen-portraits of the professors of Edinburgh University during his undergraduate years. See The University and the '45 for more details.
Carlyle and the Edinburgh Enlightenment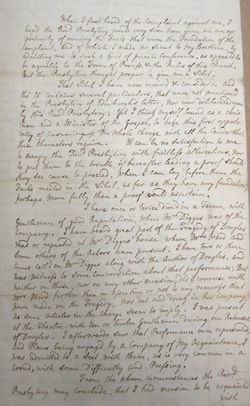 After a year at Leiden, Carlyle was licensed to preach by the Presbytery of Haddington, and in 1748 became Minister of Inveresk, where he remained until his death. He rose to be a leading member of the moderate party in the Church of Scotland, espousing the Enlightenment principles of liberal education, polite learning, and religious toleration. He played a prominent role in the wider intellectual life of Edinburgh. He was a leading light of the influential debating club, the Select Society, and its successor, the Poker Club, both major crucibles of Enlightenment thought. Carlyle's extensive connections are recorded in his Autobiography, one of the most important first-hand accounts of eighteenth-century cultural life.
In 1757 Carlyle controversially defended his friend John Home's tragedy Douglas against censure from his fellow clergy. For many Presbyterians, theatre-going was intrinsically immoral. When Carlyle attended a performance of Douglas at the Canongate Theatre, the Presbytery of Dalkeith framed a libel against him, which was ultimately quashed by the General Assembly. The experience inspired Carlyle's ironical pamphlet An Argument to Prove, that the Tragedy of Douglas Ought to Be Publicly Burnt by the Hands of the Hangman.
Influenced perhaps by his youthful experience with the College Company, Carlyle was a strong advocate of a Scottish militia to provide national defence at times of foreign conflict. Although liberal on domestic affairs, he was a staunch support of British military intervention to combat the American and French Revolutions.
Later Years
In 1762, Carlyle was appointed His Majesty's Almoner and in 1779 was appointed to a deanery by Henry Dundas. In later life, Carlyle's majestic appearance earned him the nickname 'Jupiter Carlyle'. Sir Walter Scott (1771-1832) described him as 'the grandest demigod I ever saw'. His imposing presence attracted portrait painters of the calibre of Sir Henry Raeburn, David Martin, and Archibald Skirving.
Sources
Alexander Carlyle, Autobiography of the Rev. Dr. Alexander Carlyle, Minister of Inveresk: Containing Memorials of the Men and Events of his Time (Edinburgh: W. Blackwood, 1860)
Alexander Du Toit, 'Cleghorn, William (1718–1754)', Oxford Dictionary of National Biography (Oxford: Oxford University Press, 2004)[[1], accessed 23 June 2014]
Sir Alexander Grant, The Story of the University of Edinburgh during its First Three Hundred Years, 2 vols (London: Longmans, Green, and Co., 1884)
John Home, The History of the Rebellion in the Year 1745 (London: T. Cadell, Jun. and W. Davies, 1802)
Richard B. Sher, 'Carlyle, Alexander (1722–1805)', Oxford Dictionary of National Biography (Oxford: Oxford University Press, 2004) [[2], accessed 18 June 2014]