John Home (1722-1808)
Jump to navigation
Jump to search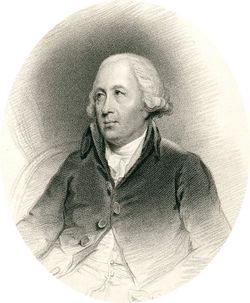 Playwright and historian John Home (1722-1808) graduated from Edinburgh University in 1742 and was a member of the College Company of volunteers formed to defend Edinburgh against the Jacobite Army in 1745. His History of the Rebellion in the Year 1745 includes an account of their actions.
Early Years
The son of a town clerk of Leith, John Home was educated at Leith Grammar School and Edinburgh University. Graduating MA in 1742, he stayed on to train for the ministry alongside his lifelong friends William Robertson (1721-1793), Alexander Carlyle (1722-1805), and Adam Ferguson (1723-1816). In September 1745, Home was one of the most enthusiastic of the College Company of university volunteers formed to defend Edinburgh against Charles Edward Stuart's Jacobite Army. After the city capitulated, he made his way to Dunbar, along with Robertson, Carlyle, and William Cleghorn (1718-1754), and offered his services to Sir John Cope, Commander-in-Chief of the British Army in Scotland. Home served as a scout for Cope's army on the eve of Battle of Prestonpans (21 September 1745), a resounding victory for the Jacobites, then joined a regiment of volunteers in Glasgow. He was taken prisoner at the Battle of Falkirk Muir (17 January 1746), the last Jacobite military success, but contrived to escape from captivity at Doune Castle by means of blanket-ropes. (See The University and the '45 for more details.)
Writing Career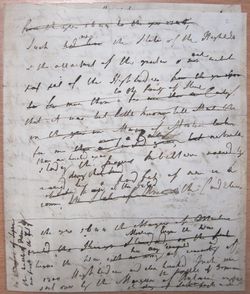 Following the final defeat of the Jacobites at Culloden (16 April 1746), Home was ordained minister of Athelstaneford in the presbytery of Haddington. Here he wrote his first tragedy Agis which he took to London in 1747. It was rejected, however, as unstageable by the influential actor and theatre manager David Garrick (1717-1779). Where Agis had bee based on a tale from Plutarch, Home turned to a Scottish subject for his next tragedy. Douglas was inspired by the traditional ballad 'Gil Morrice' and was taken up by Edinburgh literati as proof that a Scot could rival England's greatest tragedians. Endorsed by figures such as David Hume (1711-1776) (a distant relative) and William Robertson, it was again rejected by Garrick in 1755 as unfit for the stage.
With the help of Archibald, 3rd Duke of Argyll, Douglas was staged to great acclaim in Edinburgh on 14 December 1756. Its success was a key moment in the development of the Scottish literature of sensibility but sparked a major religious controversy. The theatre was widely perceived as immoral by the Church of Scotland, and Presbyterian opposition was exacerbated by the author himself being a minister. A charge was bought brought against Home's friend and fellow minister Alexander Carlyle for defending the play in the ironical pamphlet An Argument to Prove, that the Tragedy of Douglas Ought to Be Publicly Burnt by the Hands of the Hangman. The charge was eventually quashed by the General Assembly, but another minister Thomas White of Liberton was suspended for attending a performance of Douglas. Home himself pre-empted censure by resigning his charge as minister of Athelstaneford on 7 June 1757.
Home now moved to London where he was engaged as private secretary to Lord Bute and tutor to the Prince of Wales. Professional security was soon followed by literary success. Douglas was at last performed at Covent Garden, its success inducing Garrick to stage Agis at Drury Lane. With Garrick himself in the lead role, it was attended by Bute and the Prince of Wales, ran for nine nights, and made Home a fortune. His next tragedy The Siege of Aquileia was staged with almost equal success at Drury Lane in 1760. In the same year, the Prince of Wales ascended to the throne as George III and bestowed an annual pension of £300 on Home.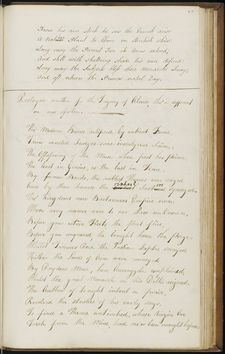 Home had three further plays staged: The Fatal Discovery (1769), Alonzo (1773), and Alfred (1778). The latter was a failure, leading Home to abandon theatre and turn to writing his History of the Rebellion in 1745. Finally published in 1802, this includes an account of the efforts of the College Company to defend Edinburgh and those of Colin Maclaurin (1698-1746), Professor of Mathematics, to fortify the city walls.
Later Life
Home resigned as Bute's secretary in 1763 but was appointed conservator of Scottish privileges at Campvere, a sinecure which entitled him to attend the general assembly of the Church of Scotland. In 1778, Home's lifelong enthusiasm for the military life led to a commission in a new regiment of Midlothian fencibles. He was seriously injured in a fall from a horse, however, and appears to have suffered brain damage. He moved to Edinburgh in 1779, living in the capital until his death in 1808.
Sources
Alexander Carlyle, Autobiography of the Rev. Dr. Alexander Carlyle, Minister of Inveresk: Containing Memorials of the Men and Events of his Time (Edinburgh: W. Blackwood, 1860)
Sir Alexander Grant, The Story of the University of Edinburgh during its First Three Hundred Years, 2 vols (London: Longmans, Green, and Co., 1884)
John Home, The History of the Rebellion in the Year 1745 (London: T. Cadell, Jun. and W. Davies, 1802)
Kenneth Simpson, 'Home, John (1722–1808)', Oxford Dictionary of National Biography (Oxford: Oxford University Press, 2004) [[1], accessed 23 June 2014]