William Robertson (1721-1793)
Jump to navigation
Jump to search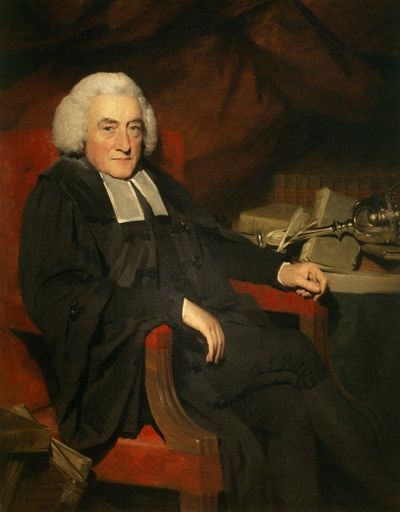 Principal, 1762-1793
Biography
Robertson was born in Borthwick in 1721 to William Robertson (1686-1745) and Eleanor Pitcairne of Dreghorn (d. 1745), educated at the Grammar School in Dalkeith and studied Humanity, Greek, Logic and Rhetoric, and possibly Moral Philosophy, followed by study at the University of Edinburgh under Sir John Pringle (1707-1782), Colin Maclaurin (1698-1746) and John Stevenson (1695-1775). The influence of his father and his education at Edinburgh allowed him to develop interests in philosophy and history; and it has been said that Robertson was first a scholar, then a clergyman.
He gained his license to preach at the presbytery of Dalkeith in 1742 before moving, after the death of his cousin in 1743, to the Parish of Gladsmuir in Haddington, assisted with help from his father's patron Robert Dundas or Lord Arniston. With the Jacobite uprising he became a volunteer in the militia forces by joining the 1st or College Company under command of George Drummond. He did not see any combat but was involved in intelligence gathering prior to the Battle of Prestonpans. With the defeat of the Hanoverian forces and the occupation of Edinburgh by the Jacobites, Robertson returned to his ministry at Gladsmuir, only to suffer, a few months later, from the death of both parents. From then on he undertook the education and support of his sisters and young brother, and delayed his marriage by eight years.
In 1751 he at last married his cousin Mary Nisbet (1723-1802), to which he had six children. Also at that this time he become more drawn into church politics and was involved with several others in the dispute over patronage leading the way for Moderate Party's influence on the Church of Scotland. His first attempt at influencing the Assembly failed, but Robertson's speech brought attention to himself. When the dispute arose again several months later, Robertson, with others, issued a pamphlet Reasons of Dissent from the Sentence and Resolution of the Commission of the General Assembly (1752) which this time carried through the moderates' wishes.
The Lord Provost of Edinburgh, George Drummond (1688-1766), assisted in the appointment of Robertson in becoming Principal of the Edinburgh University. Robertson began his career in office by establishing a Library Fund; and developed a scheme of increasing the number of buildings to the University, to be designed and built by his cousin Robert Adam (1728-1792); and was in progress when Robertson passed away. In his position of Principal, he elevated the academic standing of the University throughout Britain and Europe; the roll call of important and influential people under his Principalship included Dugald Stewart (1753-1828), Adam Ferguson (1723-1816), John Playfair (1748-1819), Andrew Dalzel (1742-1806), Hugh Blair (1718-1800), John Bruce (1745-1826), John Robison (1739-1805), Alexander Fraser Tytler (1747-1813), John Hope (1725-1786), Daniel Rutherford (1749-1819), William Cullen (1710-1790), James Gregory (1753-1821) and John Gregory (1724-1773), Alexander Monro "secundus" (1733-1817), Joseph Black (1728-1799), and Francis Home (1719-1813) among others, establishing the Enlightenment credentials of Edinburgh and Scotland. Outside the University, he was one of founders of the Royal Society of Edinburgh in 1782.
Robertson is more probably known for his historical writings. He one of the first members of the exclusive literary debating society, The Poker Club (1762-1784), established by Allan Ramsay which also had Hume, Smith, Kames, Home, Blair, and Carlyle as members. Robertson presented several papers to the society. He took a great interest in the development of 'proper' English and had formed a club, while at University, to study elocution in preparation for various debates. His clear literary style lead him to begin translating the Meditations of Marcus Aurelius and he reached Book 8 before putting it aside to concentrate on the ministry. He returned to literary pursuits by writing the History of Scotland (1759). This was a work that brought him to the notice of the writers of the day, and set the standard of historical works for the next hundred years. This was followed by equally important works covering America and India; in fact he was the first to attempt a systematic world history.
Robertson's modern approach to history led to one his greatest accolades, that of the office of Historiographer Royal for Scotland. This was re-established, by Lord Bute, especially for Robertson who brought to it such an acclaim that the post remains to this day. The equivalent office in England was abolished in the late 1830s. His accolades were not just confined to Scotland or Britain, he was named Fellow of the Real Academia de la Historia, Madrid, in 1777, Fellow of the Accademia di Scienze, Lettere ed Arti di Padova in 1781 and Fellow of St Petersburg Academy of Sciences in 1783.
Robertson continued to be involved with University business until he succumbed to jaundice in 1793. He was buried in the Robertson family plot, in Old Greyfriars Churchyard.
Positions
Minister (joint) of Greyfriars Church (1761-1793)
Principal, University of Edinburgh (1762-1793)
Moderator of the General Assembly (1763)
Historiographer Royal for Scotland (1763)
Relationships
Publications
Reasons of Dissent from the Sentence and Resolution of the Commission of the General Assembly (1752)
The Situation of the World at the Time of Christ's Appearance (1755)
Preface to Robert Adam's Ruins of the Palace of the Emperor Diocletian at Sapalatro (1757)
The history of Scotland, during the reigns of Queen Mary and of King James VI. till his accession to the crown of England. With a review of the Scotch history previous to that period (1759)
The history of the reign of the Emperor Charles V. With a view of the progress of society in Europe, from the subversion of the Roman Empire, to the beginning of the sixteenth century (1769)
The History of America (1777)
An historical disquisition concerning the knowledge which the ancients had of India; and the progress of trade with that country (1791)
Sources
Sir Alexander Grant, The Story of the University of Edinburgh during its First Three Hundred Years, 2 vols (London: Longmans, Green, and Co., 1884)
Denys Hay, 'The Historiographers Royal in England and Scotland', Scottish Historical Review, 30 (1951), 15-29.
Jeffrey R. Smitten, 'Robertson, William (1721-1793)', Oxford Dictionary of National Biography (Oxford: Oxford University Press, 2004) [[1], accessed 1 Oct 2010]