Robert Leighton (c1611-1684)
Jump to navigation
Jump to search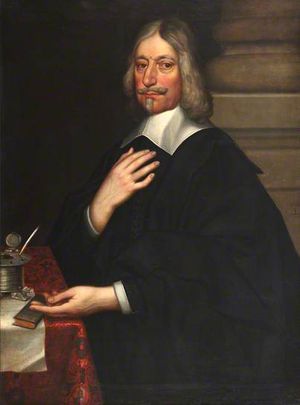 Robert Leighton (c1611-1684) was Principal of Edinburgh University from 1653 to 1662.
Biography
The city of his birth is debated, some say London, but others Edinburgh, as his father was living there in 1611. His father was Dr Alexander Leighton (c1570-1649), who was sentenced by the Star Chamber and suffered for his anti-Episcopalian pamphlet. His brother was Sir Elisha Leighton, who served in the Royalist army during the civil war.
In 1627 Robert was sent to the University of Edinburgh under the patronage of Sir James Stewart of Goodtrees, and graduated in 1631. He then travelled in Europe, where hebecame interested in the Jansenist movement. He was well read in theology and mastered Latin, Greek and Hebrew, and spoke French 'like a native'.
On his return to Scotland, he was accredited by the presbytery in Edinburgh and became a minister of Newbattle in 1641. While in London in 1652, trying to secure the release of Scottish Ministers, he suggested to the Cromwell Government that he should be appointed to the Principalship of Edinburgh which had been vacant since John Adamson (1576–1651?) had died. On his return to Edinburgh, he was formally invited to take up the post of Principal by the Town Council, in 1653, though the Edinburgh Ministers refused to vote at Leighton's election.
Part of Leighton's reason for taking up the post was that he felt that the Newbattle congregation was too large for his oratory skills, but he was beginning to be increasingly dissatisfied with Presbyterianism. In 1661, Leighton accepted the diocese of Dunblane, while still at Edinburgh University, and he still had rooms there in 1672 while Archbishop of Glasgow. Leighton was offered the Archbishop's post in 1671, after the previous archbishop refused to accept indulgence. Due to increasing hostilities between the Episcopalians and the Presbyterians Leighton wanted to resign, but Charles II made him stay until 1674, when he retired to Horsted Keynes, in Sussex, to stay with his sister.
Leighton favourite book was Thomas a Kempis's Imitation of Christ, where he found the virtues of humility, meekness, and charity inspired the way he lived his own life. He was a private man and would spend many hours in private devotion, fasting often and self-denying in his efforts. He founded at Glasgow University two bursaries in philosophy with another at Edinburgh. He also made provision for the poor and elderly in Dunblane, Edinburgh, Glasgow, and Sussex and bequeathed his library of fifteen hundred volumes to the diocese of Dunblane, which is now the oldest private library in Scotland.

He published nothing during his lifetime and had requested that his manuscripts remain unpublished on his death, but his sister was persuaded to publish them. His sermons, commentaries and Latin translations were edited by Dr James Fall (c1646-1711) and issued as instalments between 1692 and 1708. Since then many editions of his works have been issued either individually or in collected volumes.
Positions
Principal, University of Edinburgh, 1653-1662
Bishop of Dunblane, 1661-1671
Archbishop of Glasgow, 1671-1674
Chancellor of the University of Glasgow, 1671-1674
Publications
A practical commentary upon the first Epistle of St. Peter. London, 1849
The whole works of Robert Leighton, archbishop of Glasgow: to which is prefixed a life of the author by John Norman Pearson and James Aikman, New York, 1859
Sources
Sir Alexander Grant, The Story of the University of Edinburgh during its First Three Hundred Years, 2 vols (London: Longmans, Green, and Co., 1884)
Hugh Ouston, 'Leighton, Robert (bap. 1612, d. 1684)', Oxford Dictionary of National Biography (Oxford: Oxford University Press, 2004) [[1], accessed 16 July 2010]