John Lee (1779-1859)
Jump to navigation
Jump to search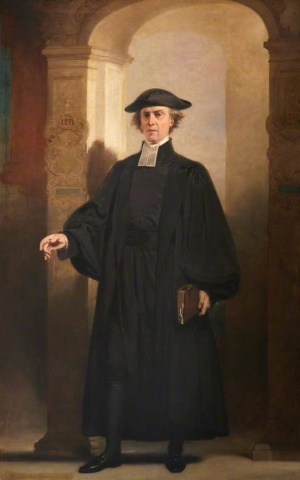 John Lee (1779-1859) was Principal of Edinburgh University from 1840 to 1859.
Biography
John Lee was born to James Lee and Helen Patterson at Torwoodlee-Mains, Stow, Midlothian in 1779. He was schooled in nearby Clovenfords before entering Edinburgh University at the age of 15. His family were of the Secessionist Church. As his family were of limited means, Lee supported himself at University by teaching, and stayed a furrther ten years completing full courses in Arts, Divinity and Medicine. He was awarded his M.D. in 1801. After a short period working in service of an army hospital he embarked on the study of law.
In 1804 he gained his license to preach and became the amanuensis of the Rev. Alexander Carlyle (1722-1805). When Carlyle died in 1805, Lee became one of the trustees of Carlyle's papers and, after debate amongst the trustees, was elected to edit and publish Carlyle's work, but the task was not completed and the papers were left unpublished until later in the century. In 1807 Lee was ordained as a minister of the Church of Scotland, and after a brief spell at the Scotch Church in London, became minister of Peebles until 1812 when he was appointed Professor of Church History at St. Mary's College, St. Andrews, to which he also became Rector. While being professor at St. Mary's College, he became Professor of Moral Philosophy at King's College in Aberdeen, conducting his lectures through a deputy. In 1821 he resigned from both professorships to become Minister of the Canongate Church, Edinburgh, as well as gaining a D.D. from St. Andrews. Four years later he became Minister of Lady Yester's Church in Edinburgh. By 1827 he had become Clerk to the General Assembly, and further, appointed Chaplain-in-Ordinary to the King in 1830. He became Minister to St. Giles Church in Edinburgh in 1834; and in 1837, he was briefly Principal of the United College of St. Andrews, before becoming Principal of St. Andrews University in 1839; and in 1840 became the Dean of Chapel Royal in Stirling.
In the latter part of his career Lee became embroiled in several disagreements with the Rev. Thomas Chalmers (1780-1847) primarily on social reforms and church politics. Chalmers opposed Lee for the appointment of Professor of Divinity at Edinburgh; and, though Chalmers initially recommended Lee for the post of Moderator of the General Assembly, subsequently opposed him as Lee had criticised Chalmers over plans for church extension. Again in 1837, when Lee applied for Moderatorship, Chalmers yet again opposed him by having him discredited. Lee instead moved away from Edinburgh to become Principal of the United College of St. Andrews. The two men clashed again over election to Principalship of Edinburgh University in which Lee succeeded. Following the Disruption in 1843, Lee remained with the Church of Scotland and took over Chalmers' Divinity lectures and eventually succeeded him in becoming Professor of Divinity whilst still acting as Principal. In 1844 he was successfully elected as Moderator of the General Assembly.
Lee played a significant role as a member of the Royal Commission on the Universities and Colleges of Scotland from 1826 to 1831, which was primarily set up because of the legal dispute between the Town Council of Edinburgh and the Senatus of the University. Their recommendations were incorporated into the Universities (Scotland) Act 1858, one of which stated that the office of Principal was no longer an ecclesiastical post, linked with the Church of Scotland, but be open to laymen and members of any church. This was certainly noticed by the election of Sir David Brewster (1781-1868) in 1859, who was a scientist and also a free churchman.
Out with his roles of academic or clergyman, Lee was a bibliophile, and had amassed an impressive collection of over 20,000 volumes. He was also unusual in that he had read the volumes in his collection and had acquired such a breadth and depth of knowledge that he could easily converse with any of other professors in their own subjects. Various stories are told of his collecting habits in Hill Burton's The Book Collector, where Lee is caricatured as Archdeacon Meadows.
John Lee married twice, first to Rose Masson in 1813 (d.1833) to which he had 11 children, and then in 1841 to Charlotte E. Wright (d.1871). Lee died in the University of Edinburgh in May 1859.
Positions
Minister at Peebles 1807
Professor of Church History at St. Mary's College, St. Andrews 1812-1821
Professor of Moral Philosophy at King's College, Aberdeen 1820-1821
Minister of Canongate Church, Edinburgh 1821-1825<
Minister of Lady Yester's Church, Edinburgh 1825
Principal Clerk of the General Assembly 1827
Appointed Chaplain-in-Ordinary to the King 1830
Minister of St. Giles Church, Edinburgh 1834
Principal of the United College of St. Andrews 1837
Principal of St. Andrews University 1839
Dean of Chapel Royal, Stirling 1840
Principal of University of Edinburgh 1840
Professor of Divinity, Edinburgh (concurrent with being Principal) 1843
Moderator of the General Assembly 1844
Publications
Medical thesis: Dissertatio medica inauguralis de viribus animi in corpus agentibus; quam, annuente summo numine, ex auctoritate Reverendi admodum viri D. Georgii Baird, ... pro gradu Doctoris, summisque in medicina honoribus ac privilegiis rite et legitime consequendis; eruditorum examini subjicit Joannes Lee, ... ad diem 24. Junii, hora locoque solitis Edinburgh, 1801.
Memorial for the Bible Societies in Scotland containing remarks on the complaint of His Majesty's printers against the Marquis of Huntly and others with an appendix consisting of many original papers. Edinburgh, 1829.
Evidence given by the Rev. Duncan Macfarlan; Rev. Dr. Lee before the Select Committee of the House of Commons on the Observance of the Lord's-Day. London, 1832.
Dr. Lee's refutation of the charges brought against him by the Rev. Dr. Chalmers and others: in reference to the questions on church extension and university education. Edinburgh, 1837.
Lectures on the history of the Church of Scotland: from the Reformation to the Revolution Settlement. Edinburgh, 1860.
The University of Edinburgh from its foundation in 1583 to the year 1839: a historical sketch. Edinburgh, 1884.
Lee also edited tracts by D. Fergusson for the Bannatyne Club in 1860.
Sources
Sir Alexander Grant, The Story of the University of Edinburgh during its First Three Hundred Years, 2 vols (London: Longmans, Green, and Co., 1884)
Fergus Macdonald, 'Lee, John (1779-1859)', Oxford Dictionary of National Biography (Oxford: Oxford University Press, 2004) [[1], accessed 29 Oct 2010]