George Husband Baird (1761-1840)
Jump to navigation
Jump to search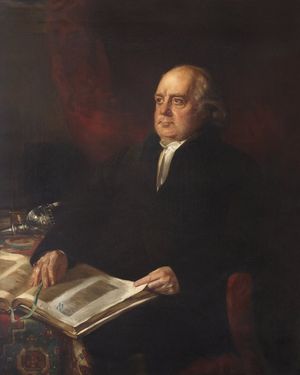 Principal of Edinburgh University, 1793-1840
Biography
Born in 1761 in the parish of Bo'ness where his father was a landed gentleman renting a farm from the Duke of Hamilton. He was educated there in the parish school and then in Linlithgow to where his parents had moved. At the age of 13 he began his studies at Edinburgh University in humanities and Greek. His studiousness came to the attention of William Robertson (1721-1793), then Principal of the University and Andrew Dalzel (1742-1806), Professor of Greek. Baird, at the same time, also studied extra-mural courses of philosophy and philology under James Finlayson and Josiah Walker. He gained his licence to preach in 1786 and was presented to the parish of Dunkeld by the Duke of Atholl. Baird's ministry was more evangelical than the Moderate position held by the Church of Scotland at this time. While in position of Minister of Dunkeld he stayed with the Duke where he supervised the education of the Duke's sons.In 1792 he married the daughter of Thomas Elder, the Lord Provost of Edinburgh. The Edinburgh Town Council offered him the Ministry of New Greyfriars Church, together with the Chair of Hebrew and Oriental Languages at the University. Further that year the Senate awarded him an honorary D.D. Through the influence of his father-in-law Thomas Elder, he was elected Principal of University of Edinburgh after the death of Robertson, in 1793. He became Minister of the New North Church in 1799, and then of the High Church in 1801.He may not have been as scholarly as William Robertson, but Principal Baird developed the University, increasing its student numbers from 1000 to 2000, creating Chairs in Conveyancing, Music, Forensic Medicine, Clinical Surgery, Military Surgery and Pathology; and seeing through the completion of the building of, what is now called, the Old College. Beyond the University he took an interest in the welfare and education of the poor in the Highlands and Islands, and his scheme, which was sanctioned by the General Assembly of the Church of Scotland in 1824, was all the more successful due to Baird's social and intellectual influences. Baird was described as being kindly with differential manners with excellent conversational skills which won him great admiration. He died in Madras, Linlithgow, in 1840, bequeathing £5000 to education in the Highlands and Islands.
Positions
Professor of Hebrew and Oriental Languages, 1792-1793
Principal of the University of Edinburgh, 1793-1840
Minister of the New North Church in 1799-1801
Minister of the High Church in 1801-1840
Relationships
Son-in-law of Thomas Elder, the Lord Provost of Edinburgh
Tutor to the family of Colonel Blair, of Blair.
Tutor to the Duke of Atholl's sons.
Sources
Sir Alexander Grant, The Story of the University of Edinburgh during its First Three Hundred Years, 2 vols (London: Longmans, Green, and Co., 1884)
A. B. Grosart, 'Baird, George Husband (1761-1840)', rev. M. C. Curthoys, Oxford Dictionary of National Biography (Oxford: Oxford University Press, 2004) [[1], accessed 22 Oct 2010]