Clement Litill (1527-1580)
Jump to navigation
Jump to search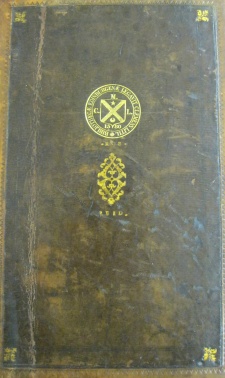 Clement Litill (1527-1580) is the founder of Edinburgh University Library through the bequest of his personal collection of theological works.
Beginnings
The son of an Edinburgh merchant and burgess, Clement Litill was educated at the Universities of St Andrews and Louvain, eventually returning to Edinburgh in 1550 to practise as a lawyer. After an apprenticeship in the ecclesiastical and secular courts, he was admitted to the Faculty of Advocates in 1553. He represented a number of influential clients among the aristocracy and worked closely with prelates such as Bishop Robert Reid and Henry Sinclair, Dean of Glasgow, both prominent judges. By the Reformation of 1560, however, he had converted to Protestantism, and had begun to amass a collection of Reformist theological works.
Post-Reformation Career
Both Town and Kirk valued Litill's legal skills. By 1561 he was serving as an elder on Edinburgh Kirk Session, and was regularly sent by the Town Council as a commissioner to attend meetings of the General Assembly of the Church of Scotland. The Assembly, in turn, appointed him one of the Kirk's advocates in 1567. In 1564, he was made one of the four members of Edinburgh's Commissary Court, which assumed the jurisdiction in matrimonial and testamentary cases that was previously exercised by bishops. His career was crowned in 1577 by his appointment as advocate depute, licensed to stand in for the king's advocate in the civil courts.
Benefactor to the University
In association with his brother William Litill, a prominent Councillor, and with the Reverend James Lawson (1538–1584), first minister of Edinburgh, Litill was one of the foremost proponents of the scheme to establish a university in Edinburgh. On 24 April 1579, he was appointed to a Council committee 'for taking of ordour anentis the founding ane universitie'. Discussions as to a suitable site for the University and as to the nature of its curriculum were still ongoing when Littil died on 1 April 1580. In his will, he bequeathed his library of 276 volumes to the Town and Kirk of Edinburgh for the use of the town's clergy, divinity students, and other scholars. The collection was handed over to the newly founded University in 1584, forming the basis of Edinburgh University Library.
Archives at Edinburgh University
Authenticated extract from the Books of Council of the Burgh of Edinburgh containing an inventory of the books bequeathed to 'Edinburgh and Kirk of God' by Clement Litill, 14 October, 1580, Edinburgh University Library (Dd.3.16/2)
Latin verses in praise of Litill, Edinburgh University Library (Dd.3.16)
Sources

Charles P. Finlayson, Clement Litill and his Library: The Origins of Edinburgh University Library (Edinburgh: Printed for Edinburgh Bibliographical Society and The Friends of Edinburgh University Library, 1980)
Sir Alexander Grant, The Story of the University of Edinburgh during its First Three Hundred Years, 2 vols (London: Longmans, Green, and Co., 1884)
James Kirk, 'Little, Clement (c.1527–1580)', Oxford Dictionary of National Biography (Oxford: Oxford University Press, 2006) [[1], accessed 21 April 2014]
James Kirk, 'Clement Little's Edinburgh', in Edinburgh University Library, 1580–1980: A Collection of Historical Essays, ed. J. R. Guild and A. Law (Edinburgh: Edinburgh University Library, 1982), pp. 1-42.