Appointment of William Carstares as Principal of Edinburgh University, 1703
Jump to navigation
Jump to search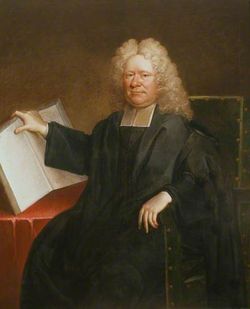 The appointment of William Carstares (1649-1715) as Principal of Edinburgh University in 1703 initiated a programme of reforms designed to remodel the 'Tounis College' in the image of Dutch universities such as Leiden. This laid the foundation for Edinburgh to develop into one of the major universities of Enlightenment Europe.
Under Carstares, the Regenting System, was abolished in favour of a professorial system that assigned each of the subjects on the curriculum to a single professor. The Faculties of Arts and Law were constituted, and new chairs were established in Public Law, Civil Law, Anatomy, and Chemistry.
After the death of Carstares in 1715, his reforms were continued by William Wishart "primus" (1660-1729) and George Drummond (1688-1766).
Key Events of Carstares's Principalship
Sources
Alexander Bower, The History of the University of Edinburgh. 3 vols. Edinburgh, 1817-1830.
Sir Alexander Grant, The Story of the University of Edinburgh during its First Three Hundred Years, 2 vols (London: Longmans, Green, and Co., 1884)