Tercentenary Festival, 1884
Jump to navigation
Jump to search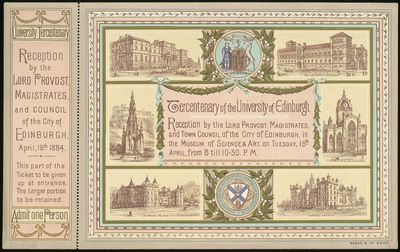 In April 1884, the University of Edinburgh celebrated its Tercentenary in a week-long festival organized by Principal Sir Alexander Grant (1826-1884).
The Tercentenary was celebrated in 1884 instead of the historically correct date of 1883 in order to coincide with the official opening of the new Medical School, built by Sir Robert Rowand Anderson (1834-1921). While celebration of university centenaries was common practice in continental Europe, this was the first event of its kind in Great Britain, and provided a model for future university festivities throughout Britain and Ireland. The Town Council and local professional bodies played a prominent role, and the Festival was also a landmark in the development of student life at Edinburgh. The Students' Representative Council was formed with the initial aim of organizing student participation in the Tercentenary.
Nearly 200 guests were invited from universities and learned bodies all over the world, besides other prominent figures from the worlds of art and science. Distinguished guests included Louis Pasteur and Robert Browning. Over 140 honorary degrees were awarded to scientists, scholars, clergy, and other public figures.
The many speeches delivered during the Festival (which climaxed with a grand civic banquet held in Synod Hall) promoted the image of Edinburgh University as a great medical and scientific university. Great stress was also laid on international academic cooperation, freedom of thought, and the harmonious relationship between religion and science.
Women, however, were permitted little or no role in the celebrations, and the burning issue of women's participation in higher education was largely ignored.
Related Events
Sources
Robert Anderson, 'Ceremony in Context: The Edinburgh University Tercentenary, 1884', Scottish Historical Review, 87 (2008), 121-45 [[1], accessed 1 August 2014]