Sir David Baxter of Kilmaron (1793–1872)
Jump to navigation
Jump to search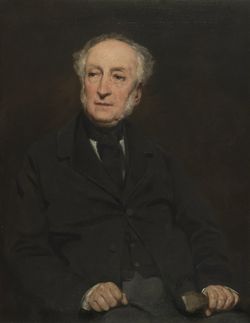 Baxter was born in Dundee 15 Feb. 1793, was a Dundee manufacturer and the second son of William Baxter, of Balgavies. He was educated at one of the local schools, and, entering business, became, while still young, manager of the Dundee Sugar Refining Company, a business established by William Wiedemann, grandfather of poet Robert Browning. Following its collapse, he became partner in the linen manufacturing firm of Baxter Brothers, which included his father and his two younger brothers. The firm speedily became one of the largest manufacturing houses in the world.
Although much immersed in the cares of business, Baxter took an active, if not very prominent, share in public affairs. In 1825 he was chosen a police commissioner, and in 1828 a guild councillor and member of the harbour board. A liberal in politics, he took a lively interest in parliamentary elections, both in Dundee and in the county of Fife, where in 1856 he purchased the estate of Kilmaron. His enlightened regard for the welfare of his native town was demonstrated through generous benefactions which have given his name one of the highest places of honour in its annals. The most notable of these was perhaps his presentation, along with his sisters, of thirty-eight acres of land to Dundee as a pleasure-garden and recreation ground, which, under the name of the Baxter Park, was opened by Earl Russell in September 1863.
He established several important foundations in the University of Edinburgh, including a number of scholarships and the chair of Engineering. He died in 1872 and left a further large sum to the University: £20,000 was used to part-fund the building of the new Medical School.