Sir Archibald Geikie (1835-1924)
Jump to navigation
Jump to search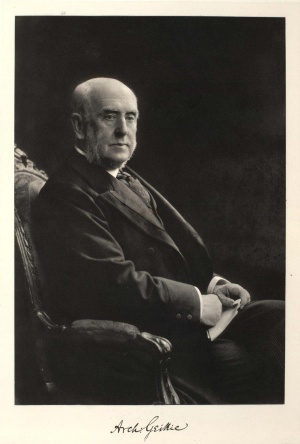 Murchison Professor of Geology, 1870-1881
Occupation, Sphere of Activity
Sir Archibald Geikie was born at Edinburgh in 1835, the son of John Stuart Geikie, businessman, and composer, and Isabella Thom. He married Alice Gabrielle Pignatel in 1871. His education was at Black's school, then Edinburgh High School and he showed a great aptitude for study and his interest in science was furthered in the direction of geology when he and his friends discovered fossils at Burdiehouse quarries. Geikie was influenced by scientists such as naturalist John Fleming, to whom he was introduced by his father, and by the many books on geolgy which he consumed, most notably Hugh Miller's Old Red Sandstone.
Geikie's professional life began initially in banking, which he did not enjoy and 1851 saw his a newspaper publication of his Three Weeks in Arran by a Young Geologist, which led to an introduction to Hugh Miller. He also became acquainted with publisher Alexander Macmillan, geologist James David Forbes and Andrew Crombie Ramsay.
The banking career abandoned, he matriculated at the University of Edinburgh in 1854 but had to leave the following year for financial reasons. A recommendation by both Miller and Ramsay to Sir Roderick Impey Murchison, newly appointed head of the Geological Survey, secured Geikie a position there as mapping assistant. The following years saw him make the acquaintance of distinguished scientists such as Leonard Horner and Sir Charles Lyell.
His official work was supplemented by research during his holiday time, travelling throughout the British Isles and Europe. 1867 saw him appointed director of the newly created branch, the Scottish Geological Survey. When Murchison founded the chair of geology in 1870 at the University of Edinburgh, Geikie was his choice as professor and he was appointed the following year.
Geikie's field and research work took him all over the British Isles and to many parts of Europe. He successfully combined his duties to both posts as well as devoting time to private research and writing. As well as his scientific writings, Geikie wrote several well-known biographical and historical books including Memoirs of Sir Roderick Impey Murchison (1875), Andrew Crombie Ramsay (1895), Edward Forbes (1861), and Founders of Geology (1897). 1924 saw the publication of his own autobiography.
He went on to succeed Sir Andrew Crombie Ramsay as head of the Geological Survey of Great Britain in 1881, which he held until his retiral in 1901. This saw him relocate to London and take a more active role in many scientific societies. Those relating to the Royal Society, he took particular interest in after his retiral, serving as secretary and president.
Relationships
His brother was James Geikie (1839-1915), who succeeded Sir Archibald as Professor of Geology at the University of Edinburgh in 1882.
Notable publications
Scenery of Scotland, (1865)
Account of the Progress of the Geological Survey in Scotland, (1865)
Physical Geography, (1873)
Colliers of Carrick, (1873)
Life of Sir Roderick I Murchison, Bart, ( 1875)
Outlines of Field Geology, (1877)
Elementary Lessons in Field Geology, ( 1877)
Text-book of Geology, (1882)
Geological Sketches at Home and Abroad, ( 1882)
Classbook of Geology; Illustrated with Woodcuts, (1886)
Geology, (1886)
Memoir of Sir Andrew Crombie Ramsay, ( 1895)
Founders of Geology, (1897)
Ancient Volcanoes of Great Britain, ( 1897)
History of the Geography of Scotland; with Maps and Illustrations, (1906)
French Impression of Scotland and the Scots in the Year 1784, (1907)
Charles Darwin as Geologist, (1909)
Birds of Shakespeare, (1916)
Annals of the Royal Society Club: the Record of a London Dining-Club in the Eighteenth and Nineteenth Centuries, ( 1917)
Honours, Qualifications and Appointments
1861: Elected Fellow, Royal Society of Edinburgh
1865: Elected Fellow, Royal Society of London
1867: Appointed Director, Scottish Geological Survey
1870: Appointed First Professor of Geology, the University of Edinburgh
1881: Appointed Head, Geological Survey
1881: Awarded Murchison Medal
1890: Appointed President, Geological Society
1890: Awarded Knighthood
1895: Awarded Woolaston Medal
1896: Awarded Royal Medal, Royal Society of London
1907: Appointed Knight Commander, Order of the Bath
1910: Appointed President, the Classical Association
Sources
List of sources for the biographical information:
Dictionary of Scientific Biography, Volume II , ( New York, Scribner's, 1981)
Links
Archibald Geikie in the Archives Catalogue