Sir Roderick Impey Murchison (1792-1871)
Jump to navigation
Jump to search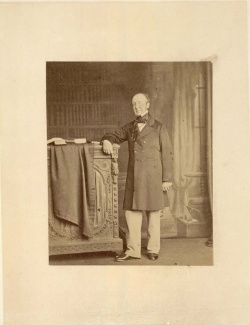 Occupation, Sphere of Activity
Murchison was born into a wealthy Highland family. He was sent to military college and fought in the Peninsular War. Once he had given up his passion for fox-hunting (he became one of the greatest fox hunters in the midland counties), Murchison, at the age of 32, turned his attention to science, devoting the rest of his life to geology. Sir Humphrey Davy persuaded him to attend lectures at the Royal Institution. He also joined the Geological Society of London, where he gave his first paper in 1825. Between 1825-1831 Murchison explored large parts of England, Scotland and France accumulating material for three of his own memoirs, as well as two more written in conjunction with Adam Sedgwick.
In 1831 at the suggestion of William Buckland, he travelled to South Wales and the Welsh Borderland, where he conducted research into the mass of rocks known as 'greywacke' rocks, underlying the Old Red Sandstone. Murchison produced a sequence of the rocks and the fossils contained within them, and these results were ultimately pulled together to form his great work of 1839, The Silurian System. The establishment of the silurian system was followed a year later by that of the Devonian System, founded along with Alan Sedgwick.
Murchison then went on expedition to Russia, Scandinavia and Finland, and collaborated with Von Keyserling and De Verneuil in The Geology of Russia and the Ural Mountains (1845). In 1841 he proposed the establishment of the Permian System, based upon his Russian explorations. In 1855 he succeeded Sir Henry de la Beche as Director-General of the Geological Survey, the most important official post in British geology. Murchison eventually endowed by bequest the Society's second highest award, the Murchison Medal, and had helped to establish the Murchison Chair of Geology at the University of Edinburgh.
Relationships
Son of Kenneth Murchison, surgeon
Married to Charlotte Hugonin, also a geologist
Notable publications
The Silurian System, (1839)
The Geology of Russia and the Ural Mountains, ( 1845)
Honours, Qualifications and Appointments
1826: Elected Fellow, Royal Society (FRS)
1831: Appointed President, Geological Society of London
1842-1843: Appointed President, Geological Society of London
1843: Appointed President, Royal Geographical Society of London
1846: Created Knight Commander, Order of the Bath (KCB)
1846: Appointed President, British Association
1855: Appointed Director-General, Geological Survey
1864: Awarded Wollaston Medal of the Geological Society
1866: Created Baronet
Sources
Gillispie, Charles C, Dictionary of scientific biography, vol vii, (New York , Scribner's, 1972)
Encyclopaedia Britannica, vol 15, (Chicago, William Benton, 1964)