Robert Reid (d. 1558)
Jump to navigation
Jump to search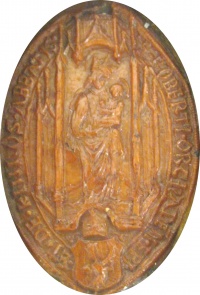 Robert Reid (d. 1558) was a Scottish Renaissance humanist and clergyman who bequeathed the funds to found Edinburgh University.
Biography
Widely respected for his judgement and learning, Reid held a succession of high offices in Church and State. Educated at St Andrews University, he became Sub-Dean at Elgin Cathedral in 1524, Abbot of the Cistercian Monastery at Kinloss in 1528, and Commendator of Beauly Priory in 1531. The following year, he became one of the Senators of the Court of Justice, placing him at the heart of Scotland's legal establishment. A favourite of King James V, Reid was employed on a number of embassies to the Pope and to the courts of England and France. In 1541, he was made bishop of Orkney, where he extensively refurbished the Bishop's Palace at Kirkwall. Following James V's death in 1542, Reid was appointed one of the Privy Council of the Regent Arran and became President of the Court of Justice in 1548. In 1551 and 1558, he was called upon as a diplomat to settle disputes between England and Scotland. Finally, in 1558 he was sent to Paris to witness the wedding of Mary, Queen of Scots with the Dauphin of France and be one of the signatories to their marriage contract. Reid was taken ill on the journey home and died in Dieppe. Bishop Reid's will included an endowment of 8000 merks for founding a college in Edinburgh.
John Knox on Bishop Reid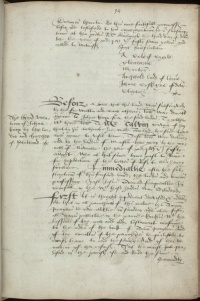 John Knox gives an unflattering portrait of Bishop Reid in his Historie of the the Reformation in Scotland, a manuscript of which is held in the Laing Collection. He gleefully insinuates that Reid was poisoned for refusing to sign a clause in Mary's marriage contract which would have made the Dauphin King of Scotland should she predecease him. He depicts him on his death bed, which he ordered to be made 'betwixt his two coffers', for 'such was his god: the gold that therein was inclosed'.
Other Views
In stark contrast, other contemporary commentators extol Reid as a generous patron of the arts. George Buchanan, Scotland's greatest Reformation poet and scholar, praised his virtue and charity. Giovanni Ferrerio, an Italian scholar chosen by Reid to turn Kinloss into a centre of Humanist academic excellence, lists many acts of munificence. These include the founding of a college in Kirkwall to instruct the youth of Orkney in grammar, philosophy, and mathematics, and the provision of funds to support poor gentlemen's sons at the universities of Aberdeen, St Andrews, and Glasgow, and to permit scholars to pursue further studies in France. Adam Elder, a Monk of Kinloss, seconds Ferrerio's praise writing: 'All riches he cares not for in comparison with his beloved libraries. Neither castles, nor palaces, nor buildings of fair architecture, nor gold, nor silver, nor lands, nor horses, nor raiment, nor gems, does he prefer to good books.' Reid's greatest legacy, the foundation of Edinburgh University, strongly suggests that such tributes paint a fairer picture of the man.
A 20th-Century Admirer
In one of his 'Letters from Hamnavoe', dated 2 September 1971, the Orcadian poet and novelist George Mackay Brown lists the 'crown jewels of island literature' that he 'never tire[s] of reading'. These include Bishop Robert Reid's 'sonorous prose anent the reorganisation of the chapter and services of the Cathedral of St Magnus the Martyr just before the Reformation'. Edinburgh University Library holds the manuscript of this and many other works by Brown among its Scottish Literary Papers. Archives at Edinburgh University
Sources
George Mackay Brown, Letters from Hamnavoe (Edinburgh: Gordon Wright, 1975)
Giovannni Ferrerio, Ferrerii historia abbatum de Kynlos, ed. W. D. Wilson, Bannatyne Club, 63 (1839)
Sir Alexander Grant, The Story of the University of Edinburgh during its First Three Hundred Years, 2 vols (London: Longmans, Green, and Co., 1884)
John Knox, The History of the Reformation in Scotland, ed. David Laing (1793-1878), 2 vols (Edinburgh: Printed for the Wodrow Society, 1846-48)
J. Stuart (ed.), Records of the Monastery of Kinloss, Society of Antiquaries of Scotland, 9 (1872)