Laying of Foundation Stone of King's Buildings, 1920
Jump to navigation
Jump to search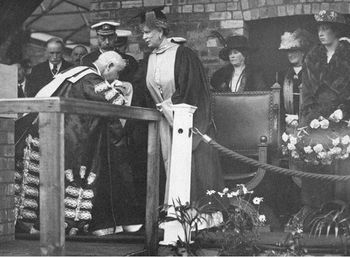 During the First World War, the already outdated Science and Medicine buildings had suffered greatly from lack of repairs or upgrades, and, after peace was declared, the huge influx of new students intensified this problem even further. This led to the building of a new campus at King's Buildings.
There was an especially pressing need for more laboratory space, particularly for students of Chemistry. Although the Faculty of Science had been founded in 1893, the Department of Chemistry had remained within the Faculty of Medicine. It had thus been transferred from Old College to the new Medical School in the 1880s. Even before the First World War, laboratory space was found to be inadequate, and in 1913 the University Court allocated a site for new laboratories at High School Yards. The scheme was suspended during the war and finally abandoned at its conclusion when it was realized that it would not meet postwar requirements. The large number of students returning from war duty to complete their studies had led to a massive increase in the student population. The Medical Faculty, in particular, had borne the brunt. Its intake shot up from 1,304 in 1913-14 to 1,968 in 1919-20 and 1,967 in 1920-21. Space in the Medical School was now at a premium, and the need to find new premises for the Chemistry Department became urgent.
In response the University Court resolved to transfer Chemistry from the Medical to the Science Faculty and to set up a new science campus. In 1919 it purchased a new site at West Mains Farm, at some two miles distance from the existing university buildings. Work on the new site began in November 1919. The first building was to be a new home for the Chemistry Department. Arthur Forman Balfour Paul (1875-1938) was appointed architect of what is now called the Joseph Black Building.
On 6 July 1920, King George V laid the foundation of the Joseph Black Building. In his speech he referred to "a world devastated by the ravages of war" and and declared that "we pin our faith upon the possibilities emerging from the progressive application of science to the service of man".
The Joseph Black Building was in use by 1922 and was officially opened 2 years later. It was shortly followed by new buildings for Zoology (1929), Animal Genetics (1930), Geology, and Engineering (both 1932).
Related Links
Sources
Robert D. Anderson, 'The Construction of a Modern University', in Robert D. Anderson, Michael Lynch, and Nicholas Phillipson, The University of Edinburgh: An Illustrated History (Edinburgh: Edinburgh University Press, 2003), pp. 103-207.
Sir James Walker, 'Chemistry', in History of the University of Edinburgh 1883-1933, ed. A. Logan Turner (Edinburgh: Edinburgh University Press, 1933), pp. 264-72.