Polish School of Medicine
Jump to navigation
Jump to search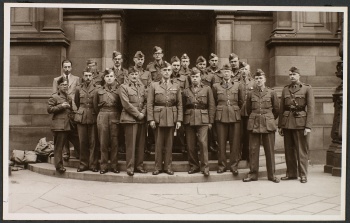 Background
The establishment of the Polish School of Medicine in March 1941 was a unique wartime academic initiative by the University of Edinburgh and the Polish Government. The idea of a Polish medical school as a part of the University of Edinburgh came from Lt.Col. Professor Francis Albert Eley Crew who was Professor of Animal Genetics at the university and Commanding Officer of the Military Hospital at Edinburgh Castle. Also involved from the university side were the Dean of the Medical Faculty, Professor Sir Sydney Alfred Smith (1883-1969) and with Sir Thomas Henry Holland, the Principal of the University who put the idea into motion through the University authorities. Representing the Polish Government was the Commander in Chief of the Polish Forces and Prime Minister General Władysław Sikorski, who gave his whole-hearted support and Lt.Col. Dr Antoni Jurasz, Professor of Surgery at the University of Poznań, who became the main organiser and first dean of the Faculty on the Polish side.
In operation
Although originally intended to meet the needs of students and doctors in the Polish armed forces, the School opened its doors to civilians from the outset. Students followed a Polish curriculum, were taught mainly in Polish, and were awarded a Polish degree. By the time the school closed in 1949, over 336 students had matriculated. 227 had graduated with a medical diploma (MBChB) and 19 obtained a doctorate or MD.
Legacy
Only a few graduates returned to Poland after the war - most remained in Britain. Some emigrated to the US, Canada, Australia and elsewhere. Ties between the University of Edinburgh and graduates of the school and their families persist.
Archives
Interlinked are the core records of the school itself along with the papers amassed by Wiktor Tomaszewski.
External Links