James Geikie (1839-1915)
Jump to navigation
Jump to search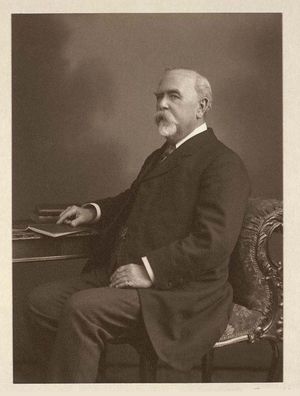 Occupation, Sphere of Activity
James Geikie (1839-1915) was, like his more famous brother Sir Archibald Geikie (1835-1924), a geologist and graduate of Edinburgh University. While he never entirely came out of his elder brother's shadow, James Geikie did achieve academic eminence in his own right. His work on glaciation was particularly important.
Geikie joined the Geological Survey under the supervision of his brother, and was charged with mapping glacial deposits in the Scottish landscape. While investigating this, he believed he had found evidence of warmer periods punctuating the ice ages. Having little conclusive evidence, he hesitated at first, but growing evidence from studies of the continental Europe convinced him he was right. His view is still accepted today.
He succeeded his brother in the post of Murchison Professor of Geology at the University of Edinburgh in 1882, and served for a period as the president of the Royal Society of Edinburgh. He received a number of honours during his career and published a number of books on his field of study. He was also the honorary editor of the Scottish Geographical Magazine.
Relationships
Notable Publications
The Great Ice Age and its Relation to the Antiquity of Man (1874)
Prehistoric Europe (1881)
Outlines of Geology (1886)
Fragments of Earth Lore: Sketches and Addresses, Geological and Geographical (1893)
Earth Sculpture (1898)
Interests and activities
James Geikie translated in verse and published a book of the poetry of German writer Heinrich Heine (1797-1856).
Honours, Qualifications and Appointments
1873: Elected to Geological Society of London
1875: Elected Fellow of the Royal Society
1882: Appointed Murchison Professor of Geology, University of Edinburgh
1889: Awarded Murchison Medal
1889: Awarded Brisbane Medal of the Royal Society of Edinburgh
Archives
Sources