Foundation of Sir William Fraser Chair of Scottish History and Palaeography, 1901
Jump to navigation
Jump to search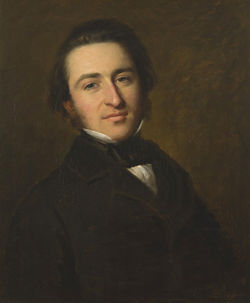 The Foundation of the Sir William Fraser Chair of Scottish History and Palaeography in 1901 marked the emergence of Scottish History as a distinct academic discipline.
The genealogist and lawyer Sir William Fraser (1816–1898) amassed a considerable fortune from researching and publishing the family papers of Scottish aristocratic families. In his will, he bequeathed Edinburgh University a sum of £25,000 to endow the world's first Chair in Scottish History. The first appointment was Peter Hume Brown (1849-1918) who at first ran a honours only degree covering the period up to 1500. Initial emphasis was very much on the ancient written records of Scotland, as was consistent with Fraser's own research interests. The appointment of Henry William Meikle (1880-1958) as a lecturer in 1909 permitted Brown to extend the Scottish history course until the end of the 18th century.
Funds bequeathed by Sir William Fraser were also used to recatalogue the University Library.
Other University Events in 1901
Sources
Alexander Falconer Giles, 'The Faculty of Arts', in A. Logan Turner (ed.), History of the University of Edinburgh 1883-1933 (Edinburgh: Edinburgh University Press, 1933), pp. 164-238.