First Publication of the Student, 1887
Jump to navigation
Jump to search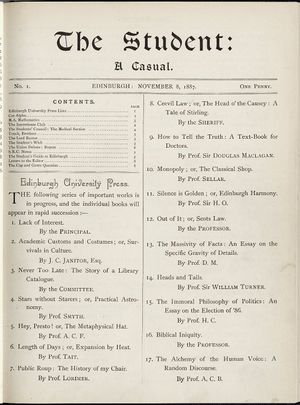 The Student was first published on 8 November 1887.
The brainchild of Robert Cochrane Buist (1860-1939), it first appeared as an eight-page quarto costing a penny. It was issued fortnightly and contained portraits of professors with critical sketches of their work, reports of sporting events, articles, reviews, and a fortnightly series of songs with music.
When Buist graduated in 1888, the Student was adopted as the official organ of the Students' Representative Council. It assumed both a more formal and a more critical tone and set as its object 'faithfully to record the passing events of University life' and 'to form a bond of union between present and absent sons of our Alma Mater'. Where previous student publications had all been relatively short-lived, the Student would go on to provide a permanent focus for and record of student corporate life.
Other University Events in 1887
See Also
Sources
Robert D. Anderson, 'The Construction of a Modern University', in Robert D. Anderson, Michael Lynch, and Nicholas Phillipson, The University of Edinburgh: An Illustrated History (Edinburgh: Edinburgh University Press, 2003), pp. 103-207.
Sir Thomas Henry Holland, 'Introduction', in A. Logan Turner (ed.), History of the University of Edinburgh 1883-1933 (Edinburgh: Edinburgh University Press, 1933), pp. xiii-xxx.