First American Graduate, 1749
Jump to navigation
Jump to search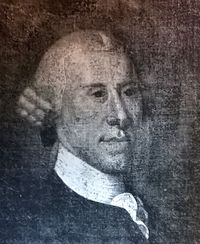 In 1749 John Moultrie (1729-1798) became the first US-born graduate of Edinburgh University.
Moultrie in Edinburgh
Moultrie was born in South Carolina to a Scottish father, John Moultrie (1702-1771), himself a graduate of Edinburgh University. He arrived in Edinburgh on 25 August 1746 in a state of some trepidation. The 1745-46 Jacobite Uprising was barely over and he had heard that 'poor Scotland is in a bad condition' and 'whole familys die famished'. The city, however, was 'easyer than I thought it would be after the Rebellion, only the ladys are always squabling for there is a number of them Jacobites'. The one hardship that Moultrie suffered as a result of the conflict was the impossibility of finding a 'surgeon lad' to act as his assistant, as all had left the capital to serve the warring armies.
Moultrie took up lodgings with 'seven, sober young students' on the advice of the recently retired Professor Andrew Sinclair (c1698-1760) who 'takes some pains about me'. He studied Anatomy under Alexander Monro ''primus'' (1697-1767), the Practice of Physic under John Rutherford (1695-1779) and Institutes of Medicine under Sinclair's replacement Robert Whytt (1714-1766) who 'gives great satisfaction to all his hearers'. Moultire was among the first students to benefit when Rutherford innovatively introduced clinical lectures into the curriculum in 1748. He writes (2 February 1748):
'We have a new Class set on footing here this winter, by our Professor of ye Practice of Physic, which is to lecture on the Cases of ye Patients in the Infirmary, in which he gives the Diagnosis, Prognosis and Method of Cure, which Lectures are reckon'd very valuable and serviceable.'
Thesis
Moutrie graduated in 1749 with a thesis on yellow fever: 'De Febre maligna biliosa Americae'. His name appears on the printed roll as 'Joannes Moultrie, ex Carolina Meridionali provincia'. Moutrie's thesis was soon recognized as the most authoritative work on yellow fever to date and a study for which there was a pressing need. Known as the 'the Terror of the South', yellow fever ravaged the Atlantic coastline for over a century. Moultrie himself had already survived three epidemics of the disease before travelling to Edinburgh. A further edition of Moultrie's thesis was published in Langensalza, Germany, in 1768, and it was subsequently translated into French and German.
Later US Graduates
Moultrie junior was the first of 117 American students to graduate from Edinburgh's Medical School by the end of the eighteenth century. Other distinguished US alumni of Edinburgh's medical school include:
Related Pages
Sources
John Z. Bowers, 'The Influence of Edinburgh on American Medicine', in Medical Education and Medical Care: A Scottish-American Symposium, ed. Gordon McLachlan (Oxford: Oxford University Press, 1977), pp. 1-23.
'Letters from a Colonial Student of Medicine in Edinburgh to his Parents in South Carolina, 1746-1749', University of Edinburgh Journal, 4 (1930-31), 270-74.
J. B. Morrell, 'Medicine and Science in the Eighteenth Century', in Four Centuries: Edinburgh University Life, 1583-1983, ed. Gordon Donaldson (Edinburgh: University of Edinburgh Press, 1983), pp. 38-52.
Eleanor Winthrop Townsend, 'John Moultrie, Junior, M.D., 1729-1798, Royal Lieutenant-Governor of East Florida', Annals of Medical History, 3rd Ser., II (1940), 98-109.