David Laing (1793-1878)
Jump to navigation
Jump to search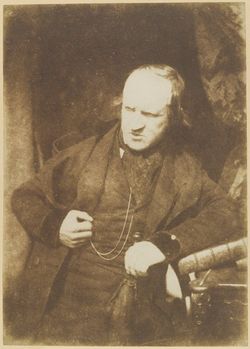 (1793-1878) Antiquary, bookseller, & Librarian of the Signet Library
The bequest to Edinburgh University Library of David Laing's vast collection has been described as 'the most important manuscripts donation in the Library's history'. Born in Edinburgh, Laing studied at the University of Edinburgh before joining his father as a bookseller. His life and career repeatedly touched Edinburgh University Library.
While still a young man he achieved a reputation for a 'truly wonderful degree of skill and knowledge in all departments of bibliography' with his reprint in 1815 of Auctarium Bibliothecae Edinburgenae sive Catalogus Librorum quos Guilielmus Drummondus ab Hawthornden Bibliothecae D.D.Q. (1627), the Library's catalogue of the first collection of books gifted by William Drummond of Hawthornden.
An antiquary, editor of older texts and an inveterate collector of books and manuscripts, he was appointed Librarian of the Signet Library in 1837, holding the post until his death in 1878.
His direct benefactions to the Library began and continued through his life. As Secretary to the Bannatyne Club, he arranged for the Library to receive a free copy of each of the Club's publications as it appeared; and his arranging for James Orchard Halliwell-Phillipps (1820-1889) to have access to the Library's rare quarto of Shakespeare's Titus Andronicus resulted in the former's magnificent gift and bequest of his Shakespeariana collections a few years later.
David Laing died unmarried, bequeathing his collection of manuscripts to the University Library. This includes autograph correspondence from many famous contemporaries in the worlds of literature and scholarship, as well as such gems as the C17 Stamboek or Album Amicorum of Michael van Meer. His collection of printed books was sold by Sotheby, Wilkinson & Hodge over thirty-one days in 1879 and 1880, and realised £16,137.