William Carstares (1649-1715)
Jump to navigation
Jump to search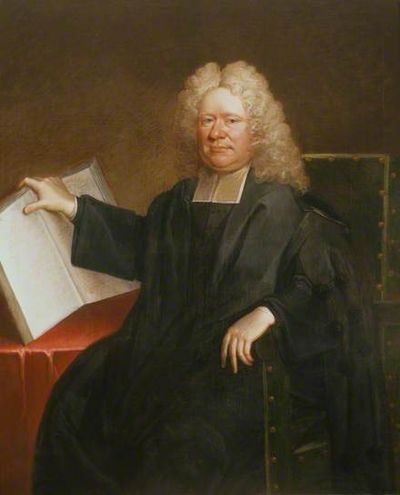 William Carstares (1649-1715) was Principal of Edinburgh University from 1703 to 1715.
Biography
Carstares was born in 1649, in Cathcart near Glasgow. He was the son of Rev John Carstares who was a member of the Covenanting party of Protestors. He was classically educated by John Sinclair, the minister of Ormiston, before entering Edinburgh University to study for his Bachelor of Arts, which he received in 1667. Due to the dominant Episcopalian nature of the University at the time, his father encouraged him to study theology at Utrecht. While there he became a life-long advisor and confidant to the Prince of Orange, later King William III of England (William II of Scotland), becoming William's chaplain until the King's death in 1702.
With his connection with the Prince of Orange, he was implicated in many acts that opposed Charles II, for which he was arrested and imprisoned several times, and at one point, was tortured for information regarding the Rye House Plot of 1674. He accompanied the Prince into England to take the English throne in 1689.
During his lifetime he was an influential diplomat and statesman both in the political arena and in ecclesiastical affairs. It was he who convinced William III to accept and trust the Presbyterian settlement in Scotland; and advocated that the General Assembly should accept the Act of Union.
After the death of William in 1702, he was no longer employed in the court and returned to Edinburgh to quell a disquiet in the Assembly regarding their rights. It was at this point that he was appointed as Principal of the University after Gilbert Rule (c1629-1701). Carstares applied the same diplomacy and tact to the appointment as he had done in politics and introduced many changes into the University; but even before his appointment as Principal, he had already negotiated with William III to make an annual payment to all the Scottish Universities of 300 pounds from the Bishop's rents.
He improved relations between the Town Council and the University and persuaded the Council to replace the Regent designation with that of Professorial, and developed professorships for individual subjects, including those in Ecclesiastical History, Anatomy, Physics and Medicine, Public and Civil Law. He also developed the foundations for a Faculty of Law. This not only increased choice and specialisation within the curriculum, but also expanded University teaching as a whole, providing the basis for the enlightenment period to come. He continued to work in developing the University and obtained from Queen Anne a bounty of 250 pounds to augment professors' salaries.
Very little survives of Carstares' writings, especially of his sermons, which were preached in fluent Latin. A few pamphlets survive written in defence of the National Church from the strong Episcopalian alliance which was lobbying for toleration in 1712, which was successfully defended against. Carstares died in Edinburgh, December 1715, and was buried in Greyfriars Churchyard in 1716. He was survived by his wife, Elizabeth Kekewich (d. 1724) of the Kekewich's of Trehawk in Cornwall. They had no children.
Positions
Pastor of Theobald in Hertforshire in 1681
Minister of the English church in Leyden 1685
Chaplain to Prince of Orange, later King William III 1685-1702
Principal of University of Edinburgh 1703-1715<
Minister of Greyfriars church, Edinburgh 1704
Elected moderator of the General Assembly 1705
Relationships
Chaplain to Prince of Orange, later King William III
Publications
Some Queries humbly propos'd, upon the bill now depending before the Honourable House of Commons, for a toleration to the episcopal Dissenters in Scotland. London, 1712
The case of the Church of Scotland with relation to the Bill for a toleration to the Episcopal dissenters to set up meeting-houses, and use the English service in Scotland. London, 1712
The Scottish toleration argued: or, An account of all the laws about the Church of Scotland ratify'd by the Union-Act. In a letter from a Scots gentleman [i.e. William Carstairs] to a Member of Parliament. London, 1712
Sources
Alexander Bower, The History of the University of Edinburgh. 3 vols. Edinburgh, 1817-1830.
Tristram Clarke, 'Carstares , William (1649-1715)', Oxford Dictionary of National Biography (Oxford: Oxford University Press, 2004) [[1], accessed 3 Sept 2010]
Sir Alexander Grant, The Story of the University of Edinburgh during its First Three Hundred Years, 2 vols (London: Longmans, Green, and Co., 1884)