Sir David Brewster (1781-1868)
Jump to navigation
Jump to search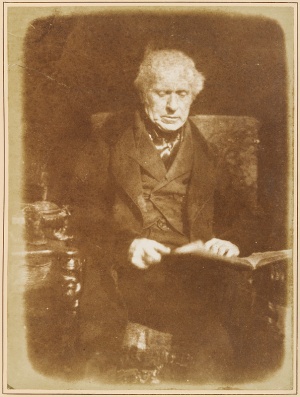 Principal and Vice Chancellor, 1859-1868
Occupation, Sphere of Activity
David Brewster was born in Jedburgh, Roxburghshire in 1781, to James Brewster, the rector of Jedburgh Grammar School and Margaret Key. He was educated at the University of Edinburgh, graduating MA in 1800. Although he was originally intending to be a Minister. Though a successful preacher in the Church of Scotland, his phobia of public speaking curtailed his involvement in the church. However, his faith continued to play an important role in his life, and his support for the Free Church of Scotland in 1843 nearly led to his dismissal from the University of Edinburgh.
Concentrating on the science of optics, Brewster made significant discoveries about polarisation of light and absorption spectra, invented the kaleidoscope and developed the stereoscope. His religious faith is also thought to have played a part in his scepticism about the wave theory of light.
In his lifetime, he published an impressive 315 scientific papers and articles, mostly on his pet subject of optics. His experiments in polarisation, which represent the bulk of his work, investigated in particular the different forms of polarisation that occur when light is reflected or refracted by various materials. Brewster's investigations of spectra included analysis of Newton's theory of colours and experiments on the absorption spectra shown in light shone through gases, and the similar lines seen in the sun's spectrum. He never abandoned the emission theory of light, and never accepted as true the theory that light was a wave - he preferred to see this as a convenient tool for calculation.
Brewster's invention of the kaleidoscope, popular as the instrument was, brought him little pecuniary benefit because of a botched patent application that left the design unprotected from unauthorised reproduction. He had a keen interest in photography from its infancy, and though he wrote about it and received a medal from the Photographic Society of Paris in 1865, he never found time to experiment properly with the chemistry of light. Brewster also promoted the use of the Fresnel lens in lighthouses, and oversaw a series of succesful experiments with these in 1833. Brewster's finances were improved in his later life by his appointment as Principal of the United Colleges of St. Salvator and St. Leonard in St. Andrews in 1837, and his subsequent election by Edinburgh Town Council as Principal of the University of Edinburgh in 1859, a post he held until his death in 1868. He was the first layman to occupy this post since Patrick Sands (c1567-1635) in 1622. Brewster was also a founder member of the British Association for the Advancement of Science and a keen, active participant in it.
Brewster died in 1868.
Relationships
Received encouragement and advice from astronomer and mathematician James Veitch when a child in Jedburgh.
Notable Publications
A Treatise on New Philosophical Instruments, (1813)
Treatise on the Kaleidoscope, (1819)
Treatise on Optics, ( 1831)
Memoirs of the Life, Writings and Discoveries of Sir Isaac Newton, (1855)
Honours, Qualifications and Appointments
1807: Awarded Doctor of Law (DCL), University of Oxford
1822: Awarded membership, Royal Irish Academy of Arts and Sciences
1825: Elected foreign associate of Institut Français
1831: Awarded Doctor of Law (LLD), University of Aberdeen
1860: Appointed Principal and Vice-Chancellor of the University of Edinburgh
1860: Awarded Doctor of Medicine (MD), University of Berlin
1864: Appointed President of the Royal Society of Edinburgh
Sources
Gillispie, Charles C, Dictionary of Scientific Biography, vol II, (New York , Scribner's, 1970)
Lee, Sidney, Dictionary of National Biography, vol II, (London, Smith, Elder & Co, 1908)
Encyclopaedia Britannica, vol 4, (Chicago, William Benton, 1964)