Lauriston William Sharp (1897-1959)
Jump to navigation
Jump to search
The printable version is no longer supported and may have rendering errors. Please update your browser bookmarks and please use the default browser print function instead.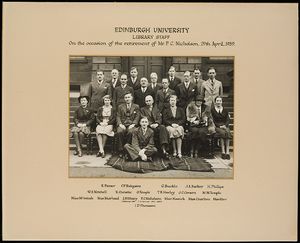 Librarian of Edinburgh University Library from 1939-1959.
Biography
Sharp was born on 1 January 1897. He was educated at Leith Academy and then studied at the University of Edinburgh, graduating with First Class Honours in English in 1920. He had previously graduated with an Ordinary M.A. in 1918. After study at Emmanuel College, Cambridge, he was awarded the degree of Ph.D. in 1927. Earlier, in 1926, Sharp joined the staff of Edinburgh University as an Assistant Librarian and went on to become the first Keeper of Manuscripts. He was appointed as Librarian in 1939, succeeding Frank Carr Nicholson (1875-1962), and held the post until 1959. In 1945 he was given the rank of Reader in Bibliography and as such he was a member of Senatus in 1951-1956. His own particular fields of interest were literary and historical studies. He edited the Early Letters of Robert Wodrow, 1698-1709 (1937). Sharp died in Edinburgh on 29 June 1959.
Archives