John Thomson (1805-1841)
Jump to navigation
Jump to search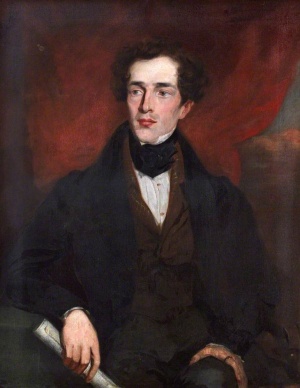 Thomson was the first Reid Professor of Music
Early Life
Born in 1805, he was the third child and eldest son of Andrew and Jane Thomson. His father, a graduate of the University of Edinburgh and former schoolteacher, was in 1800 licenced by the Presbytery of Kelso and in 1805 became minister at Sprouston, near Kelso in the Scottish Borders. In 1808 the family spent two years in East Parish, Perth before being transferred to Edinburgh first in 1810 to New Greyfriars and subsequently in 1814 to the newly opened St George's Church. A keen amateur musician, composer and writer of psalm tunes, Andrew Thomson introduced his son to the music of the church and encouraged his interest in Scottish song, literature and culture.
Musical Influences
However, John Thomson's early musical compositions were more influenced by the German 'opera' style of writing than by the Scottish folk-song tradition. He started to write music at the age of 14 and ten years later, on the death of the choirmaster at St George's, he wrote a funeral anthem. In 1829 he was fortunate to meet the young Mendelssohn who, on a visit to Edinburgh, persuaded him to continue his studies in Germany and offered him accommodation with the Mendelssohn family for part of this time. During this time he enjoyed the company of and exchanged compositions with Fanny Mendelssohn and thought highly of her vocal writings. Further travel in Germany took him to Berlin and Leipzig where he was introduced to Schumann and studied with Ignaz Moscheles. The following year, in October 1830, he visited Paris where he met both Herz and Meyerbeer. He kept a record of some of these new musical experiences in a journal which he later had published in a series of articles, published in the Harmonicon, under the heading Notes of a Musical Tourist.
While in Leipzig he had studied composition with Schuyder von Wartensee, and among his first major works were: Hermann, or The Broken Spear, an opera first performed at the Lyceum Theatre in London in 1834; and incidental music to The House of Aspen; and The Shadow on the Wall. He was considered to be a most promising young composer.
Appointment
It was with this musical background that he applied in 1838 for the new post of Professor of the Theory of Music at the University of Edinburgh. His application was supported by a number of testimonials including one from his friend, Mendelssohn. In December 1839 John Thomson presented his Commission granted him by General John Reid's Trustees and took up his post as the first Professor of the Theory of Music. The following year he married Janet Lee, the daughter of Principal John Lee and looked forward to his new responsibilities.
He set out his interpretation of his understanding of his new role in a letter to the Senatus and in February 1841 presented the first Reid Concert in line with the conditions laid down in the will of General Reid. The young Professor Thomson planned the concert with enthusiasm and in great detail, writing explanatory notes upon the items, for which he is fondly remembered as the originator in Britain of the annotated programme note.
Early Death
However, his ambitions were short-lived when, at the age of 35 after only eighteen months in post he, like his father, succumbed to a heart condition and died. His death was a great loss to the University and to the future of academic music and musical life in the city. Parallels have been drawn with his friend Mendelssohn who at young age of only 38, also died of heart failure having established his Conservatory of Music in Leipzig.