Eric Henry Liddell (1902-1945)
From Our History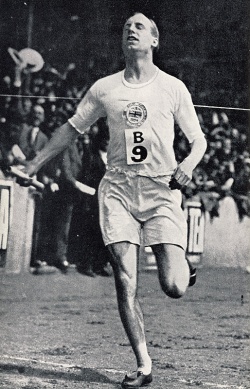 Alumnus, missionary, and athlete Eric Henry Riddell is best known for winning the 400 metre Gold at the 1924 Paris Olympics while still a student of Edinburgh University. His devout Christian beliefs had led him to withdrew from his strongest event, the 100 metres, as the heats were to be held on a Sunday.
Beginnings
Liddell was born in 1902, in Tientsin, north China, the second son of the Rev. and Mrs. James Dunlop Liddell, who were Scottish missionaries with the London Missionary Society. Schooled in China until the age of five and then at Eltham College, he matriculated at the University of Edinburgh in 1920, studying for a BSc in Pure Science.
Edinburgh University
Sport played a major role in his University life, and he excelled as both an athlete and a rugby player. He completed at both 100 yards and 220 yards for Edinburgh University Athletic Club and played in the backline of Edinburgh University Rugby Football Club. The latter gained him a place in the Scottish national rugby team, and in 1922-23, he played in seven Five Nations internationals for Scotland, scoring four tries. As the 1924 Olympics approached, however, he focused his efforts on athletics. In 1923, he won the AAA (Amateur Athletic Association) championship setting a British record for the 100 yard dash (9.7 seconds) that would not be matched for 23 years.
Olympic Triumph
When the programme for the Paris Olympics was issued, however, Liddell learned that the heats for the 100 metre sprint, his strongest distance, were to be run on a Sunday. As a devout Christian, Liddell refused to complete on the Sabbath and withdrew, switching his attention to the 200 metre and 400 metre races. He spent the months immediately before the Olympics training for the 400 metres. At the 1924 AAA championship, he won the equivalent distance of 440 yards but his time was still some way short of Olympic standards.
At the Paris Olympics, Liddell first qualified for the 200 metre final, where he gained a bronze medal finishing ahead of Harold Abrahams who had earlier won the 100 metre gold for Britain. Liddell went on to qualify for the 400 metre final held on 7 July. At the time the 400 metres was considered a middle distance event, but Liddell opted to approach the final as a sprint, setting off at a searing pace and opening up a considerable lead after 200 metres. He was challenged down the home straight but held off all competition to finish in a time of 47.6 seconds which remained an Olympic record until 1936. His tactics would permanently transform the event.
Liddell's Christian beliefs also led him to withdrew from two further events, the 4 x 100 metres and 4 x 400 metres relays, the finals of which were to be held on a Sunday. His achievements and his struggle between religious conviction and athletic ambition are portrayed in the Oscar-winning 1981 film Chariots of Fire.
Graduation
At his graduation later in July 1924, Sir Alfred James Ewing (1855-1935), the Principal of the University capped him with a crown of wild olive and the now-famous words: 'Mr Liddell, you have shown that none can pass you but your examiners.' The degree congregation gave him an ovation, and afterwards he was chaired from the University to the High Kirk of St Giles.

Later Life
His career as a world athlete continued for only a year or two after his graduation. He spent a postgraduate year at the Scottish Congregational College in Edinburgh, and then returned to the London Missionary Society's mission in China, where his parents had been worked and where he had been born, and died of typhoid fever in a Japanese internment camp in 1945.
Sources
Neil Campbell, 'Athletics', in The Story of Edinburgh Athletic Club, ed. C. M. Usher (Edinburgh: The Athletic Club, 1966), pp. 34-104.