David Hume (1711-1776)
From Our History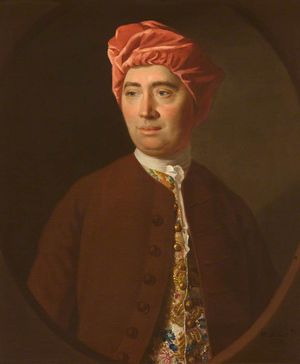 The philosopher, historian and diplomat David Hume was born in Edinburgh on 26 April 1711. He was the second son of Joseph Hume of Ninewells, near Chirnside, Berwickshire. He studied law at the
University of Edinburgh
(matriculation records showing 27 February 1723) but spent more time on reading Virgil, Cicero and other Latin literature than on his intended studies. He abandoned law and followed a brief business career in Bristol but still gave much of his time to intellectual study. In 1734, Hume went to France - to Paris, Rheims, then Anjou - returning to Britain in 1737. While in France he had written much of his
Treatise of human nature
(1739) but when it was published it failed to engender the interest, understanding and debate that he had anticipated. Settling at the Ninewell estate again, he wrote two volumes of
Essays, moral and political
(1741-1742) which were more successful.
In 1744 the Chair of Ethics and Pneumatic Philosophy at Edinburgh University was expected to fall vacant and Hume hoped to occupy it. However, support for him fell away not least because of accusations of heresy, scepticism and atheism that were levelled against him. In 1745 he became a companion to the Marquis of Annandale and resided with the family at Weldhall near St. Albans, Hertfordshire. In 1746, Hume accepted an offer to act as Secretary to General St. Clair under whom he served in France and journeyed to the Hague, Vienna, and Italy.
Hume returned to Ninewells in 1749. Meanwhile his earlier Treatise had been recast as An enquiry concerning human understanding (1748) again without success. This was followed by his Enquiry concerning the principles of morals (1751) and then Political discourses (1752). This latter work was particularly well received abroad. By this time Hume was living in Edinburgh and although he had been declined the Chair of Logic at Glasgow University he was appointed Librarian of the Advocates' Library in Edinburgh.
Hume's other publications from this period include Four dissertations (1757) one of which was the Natural history of religion and others a recasting of Suicide and Immortality of the soul written between 1755 and 1757. As a Librarian, Hume was also able to devote himself to historical subjects and his History of England was written between 1753 and 1761.
From 1763 until 1766 Hume was Secretary to the British Embassy in Paris and in 1767 he was Secretary to General Conway in London. He returned to Edinburgh in 1769. He died on 26 August 1776.
Links
David Hume's Failed Application for Chair of Moral Philosophy, 1745
---
This article is a sketch outline biography. Our intention is to flesh it out with further detail in due course.
---